Tour du Mont Blanc through hiking, the 4th day. Beyond the midpoint city · Courmayeur, I aim for Bonatti hut of Ferret Valley (Val Ferret).
Morning of Refugio Maison Vieille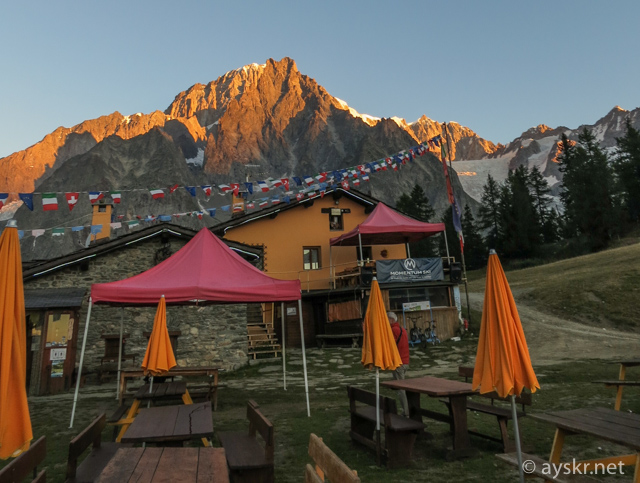 A morning glow as seen from the Maison Vieille hut, an accommodation in front of Courmayeur.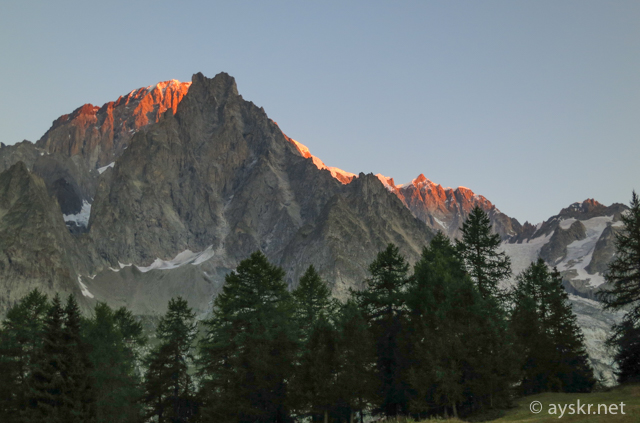 Mountain huts in Europe that I longed to hear the story that it is far more comfortable than a Japanese huts. For this trip, I decided to stay at mountain huts for all night to enjoy the huts anyhow.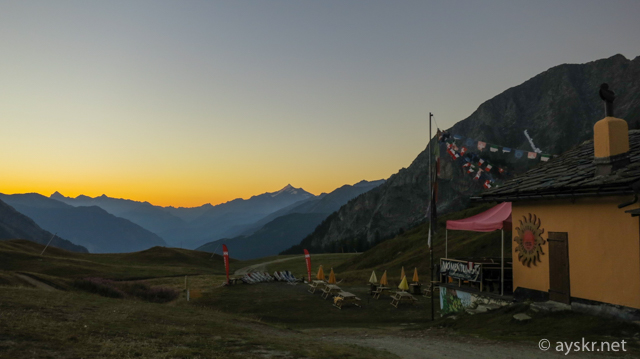 The beautiful morning and evening landscape is the privilege of staying at the mountain hut.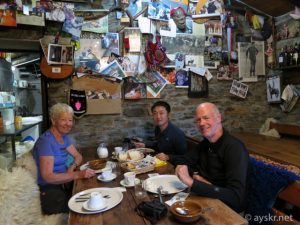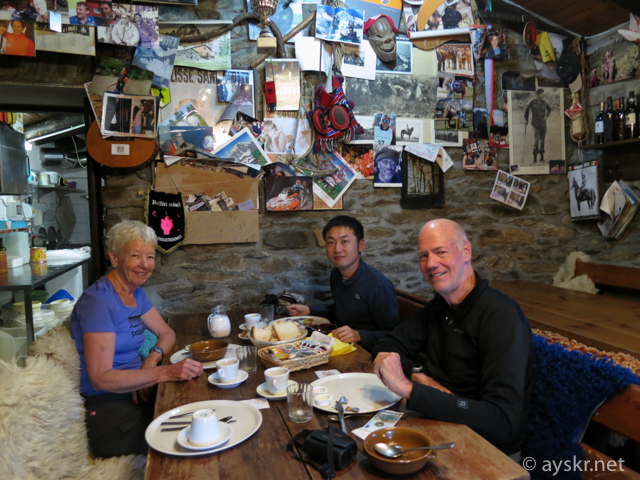 Courmayeur
I will aim for Courmayeur by going down the pass. On the way, because the ropeway seemed to be moving, I could have a shortcut ,,, When I passed, it was before business hours ,,,
I found TMB's signboard also in the windows of the huts of the passing trail. This is fashionable.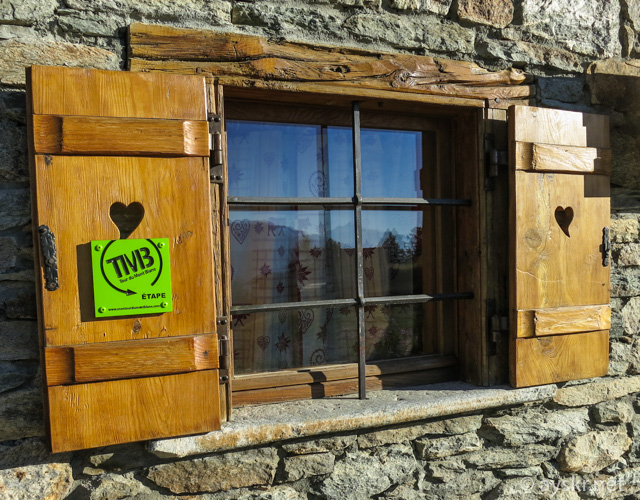 Arrive in the middle city, Courmayeur.
A mountain resort on the Italian side where rocky mountains and glaciers can be seen from the city.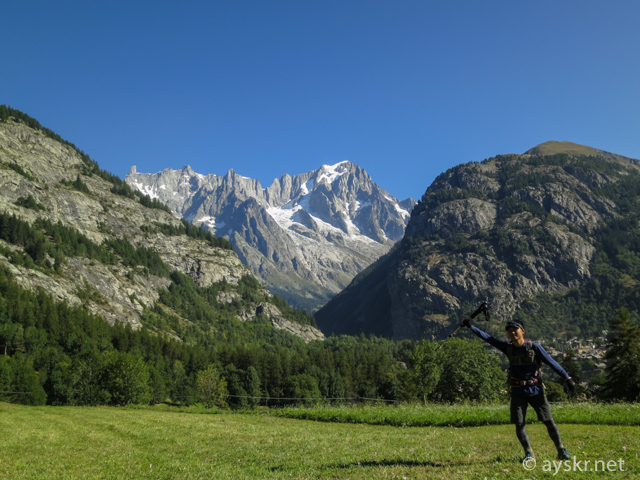 Old Town?  Stone-built quaint townscape.
In some places there are guide displays of TMB and hiking course.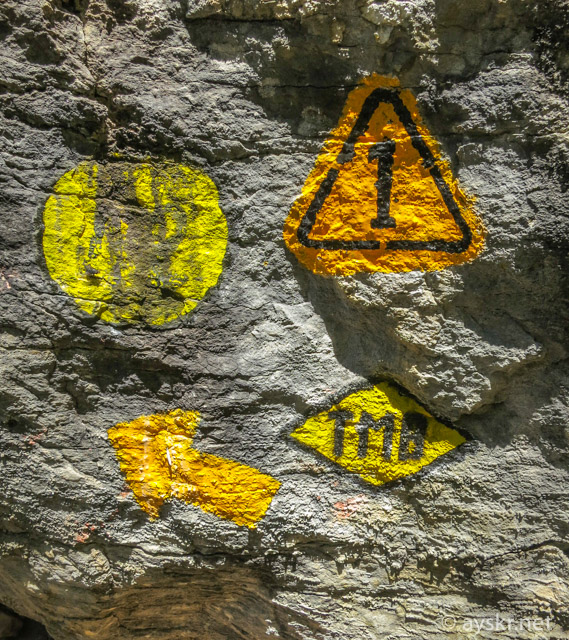 The next week I foundthat seems like a start gate of Tor Des Geants, it's 330 km of Ultra Trail Race. It is a region where you truly enjoy the mountains.or Des Geants is famous in Japan as NHK makes a program. (Between trail runners ,,,,)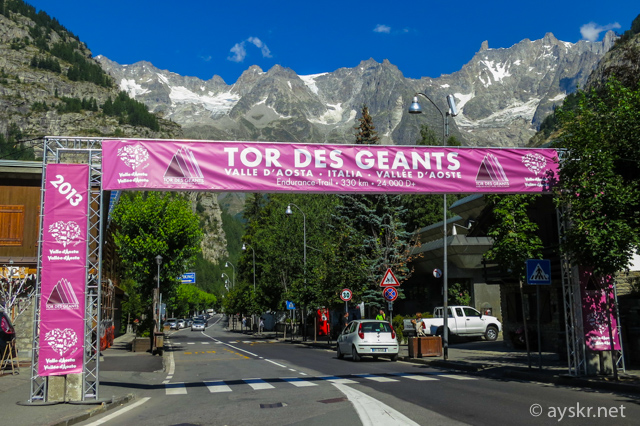 The mountain is close.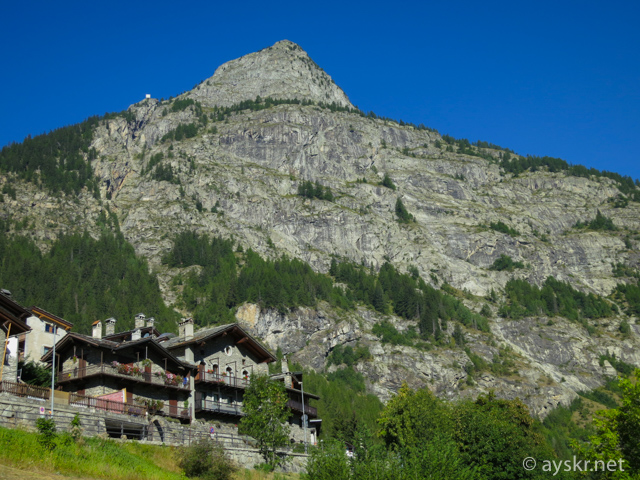 Courmayeur which only passed through my process. I want to taste Italy a little, but, the restaurant was not open yet in the morning ,,,,,. Speaking of Italy?So to the gelato store.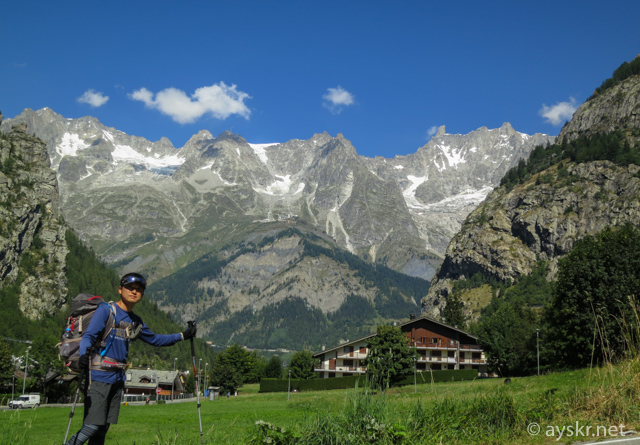 Courmayeur with a beautiful view from the city. Next time I would like to stay here and take a leisurely walk.
From Courmayeur to Bertone Hut
700m sharp rise heading to Bertone hut. This climb is quite tough with carrying luggage, but the view opens more and more.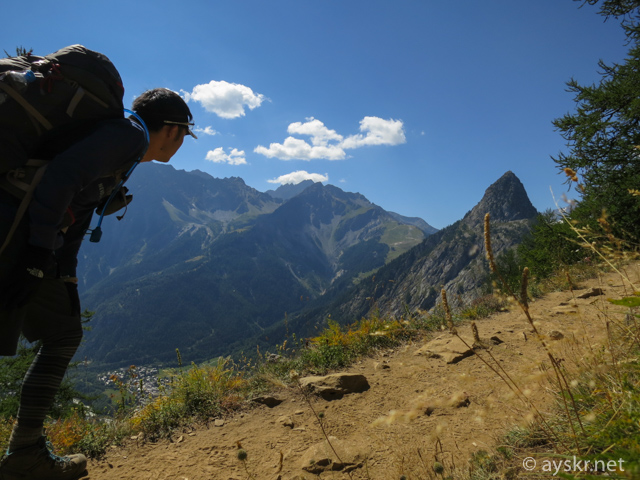 Take a break at a place that overlooks the skyline of Courmayeur.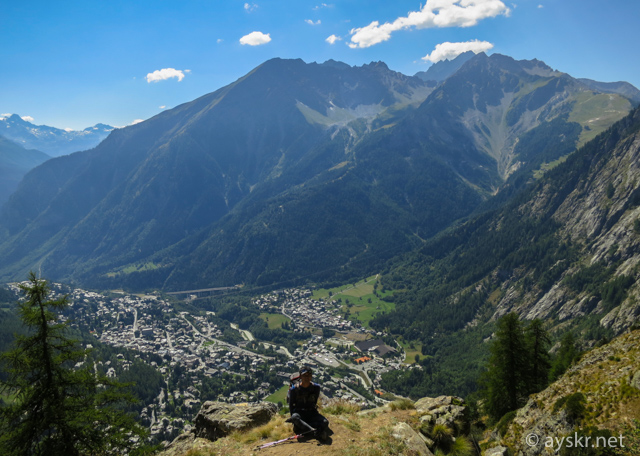 Mont Blanc has come into view.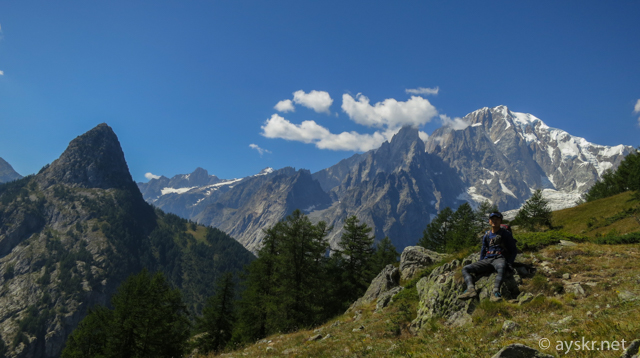 Faced with rough Italy side Mont Blanc ragged.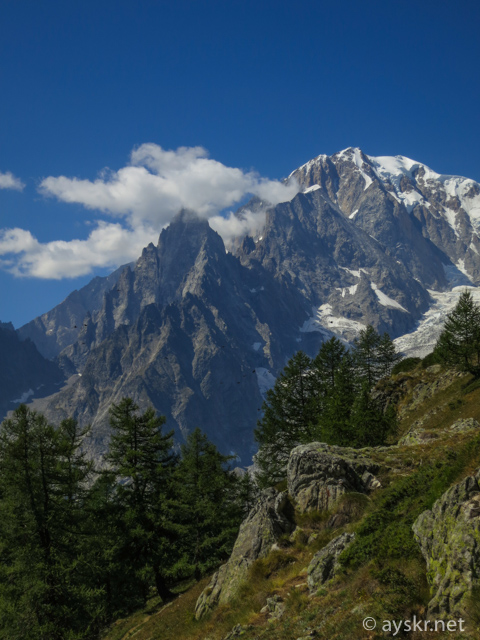 Lunch at Rifugio Bertone
Arrived at Bertone Hut. It is a mountain hut with a wonderful view of Mont Blanc and Courmayeur. I will have lunch here.
A luncheon mat that designed a map of Aosta, Italy. There are still plenty of nice mountains and routes besides Mont Blanc. The place I want to travel also add.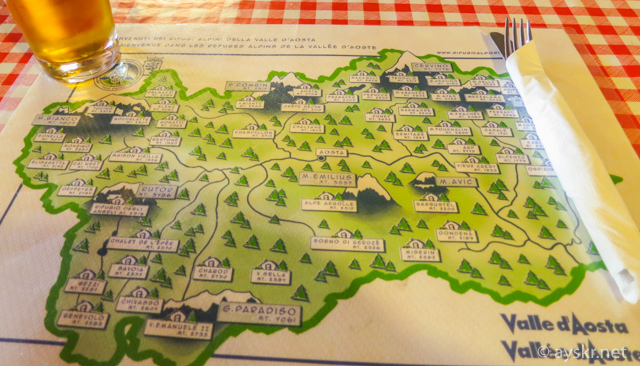 Simple pasta with salt and garlic. This was incredibly delicious. It's uncompromising boiling condition which can not be thought of as a hut . As expected it is Italy.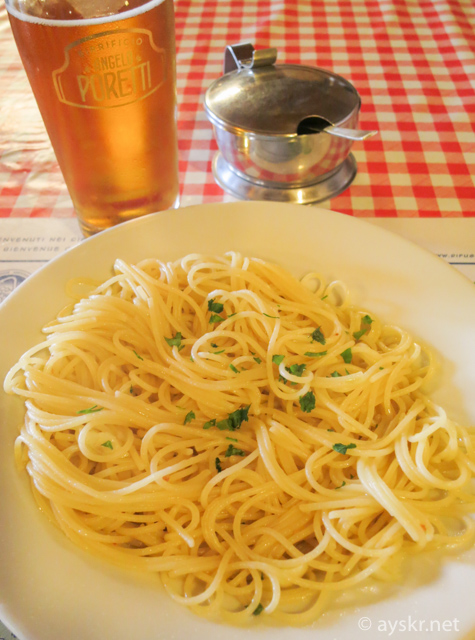 A landscape from the barn behind the Bertone hut.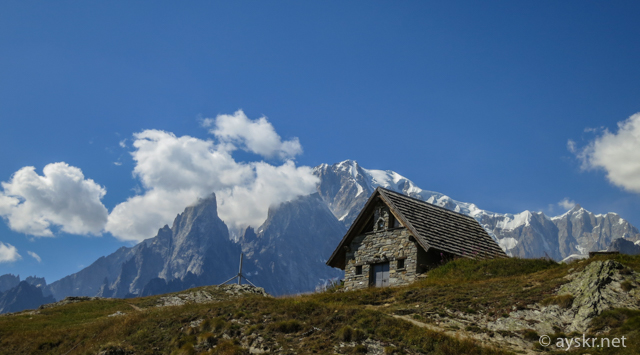 Mont Blanc and me
Scenic route to see Ferret Valley
The route of almost horizontal movement from lunch point the Bertone hut to the next accommodation Bonatti hut is the highlight of TMB's highlights, it is a very beautiful section. There was also a praise storm in the guide book, such as "In good conditions, this stage promises to be one of highlights of the Tour of Mont Blanc." "The stage is a delight from start to finish." "Balcony trail".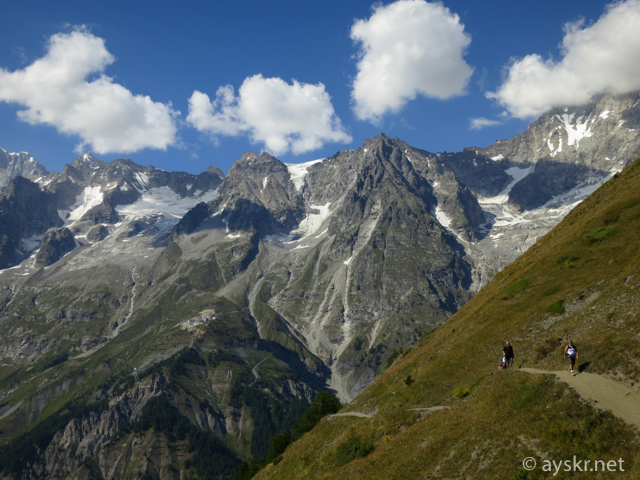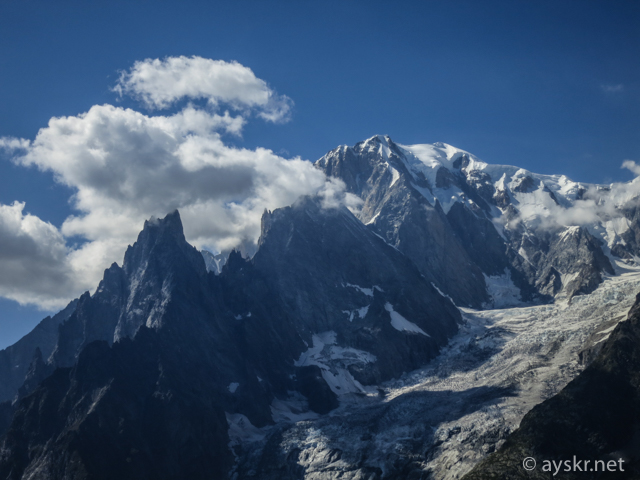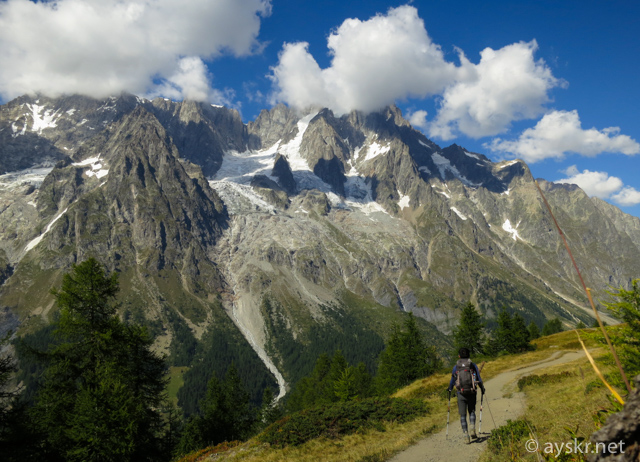 Clouds will accent the scenery.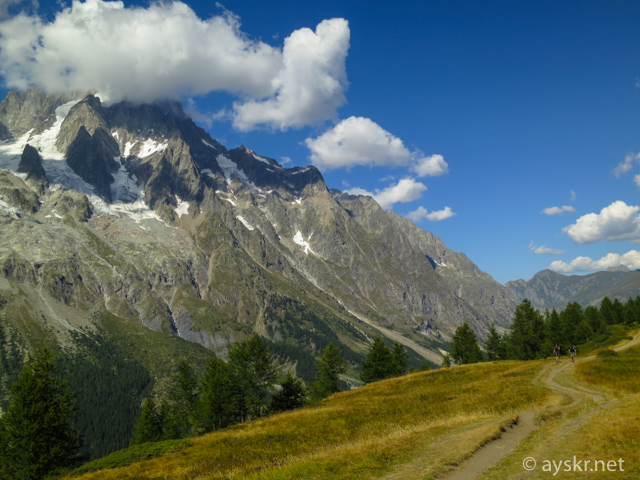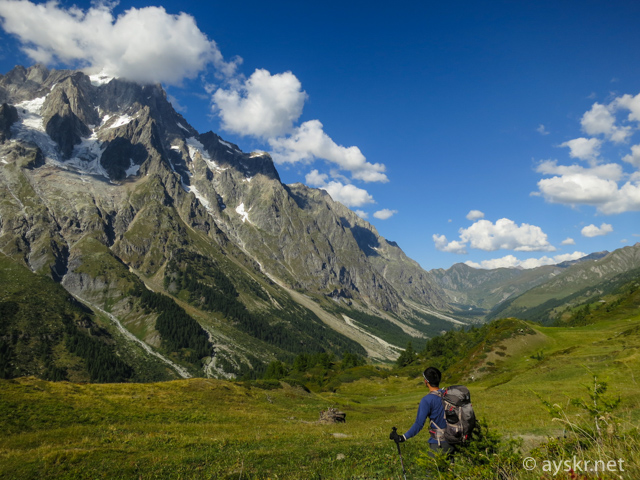 Before Grand Joras (Grandes Jorasses), behind Mont Blanc. It is regret to go. A blissful mountain journey surrounded by superb views.
Today's inn: Rifugio Bonatti
I discovered today's accommodation Bonatti hut on the hill next to the main route.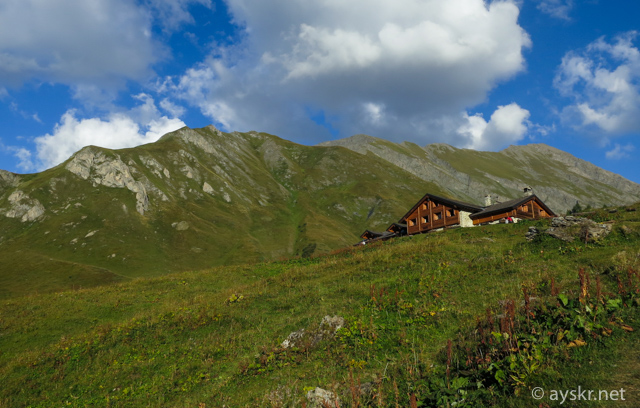 Hikers who have arrived long have a relaxing time.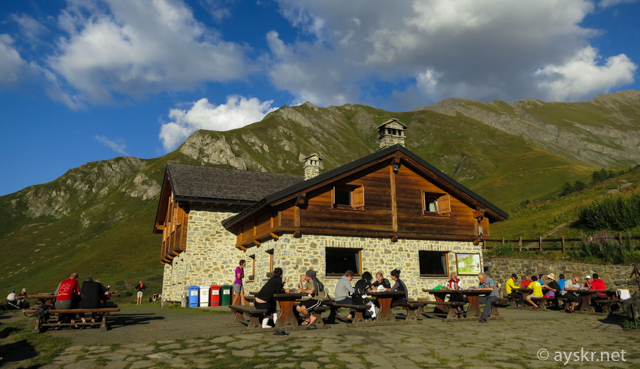 Older hikers who cups while looking at Grand Joras. The best time.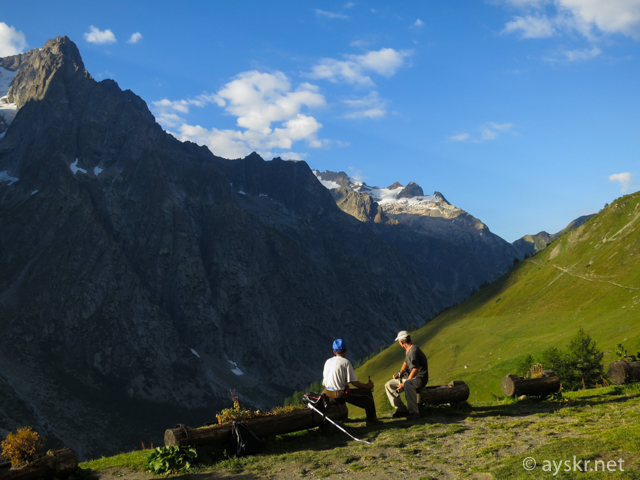 This cabin is equipped with fine wooden bunk beds separated from each other, coin-operated showers with plenty of hot water, drying rooms, bar counters, etc. Anyway the facilities are fulfilling, just newly renovated, new beautiful. It was the best lodging in this process. (One coin will be given to each guest.)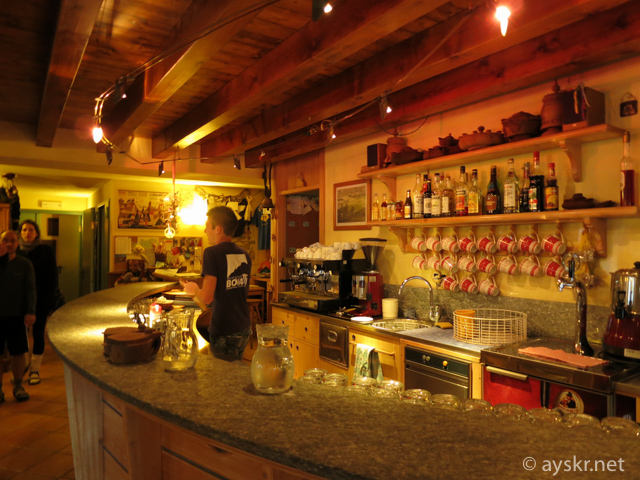 Is the appetizer for dinner black bread? And something like a salad. Penne, meatballs, mashed potatoes. Is dessert a mark of a hut? Raspberry pie treated as.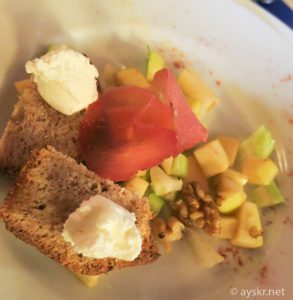 A lively cafeteria. Quiet young man who came from Russia, English sirs drinking wine, Slovak runners preparing for Tor Des Geants, exciting with each journey and talks, the night of Bonatti hut will be lifted.
Tour du Mont Blanc Day4, finished.
[Today's memo]
Views from the trail from the Bertone hut to Bonatti hut is  the "best"
The course of the fourth day.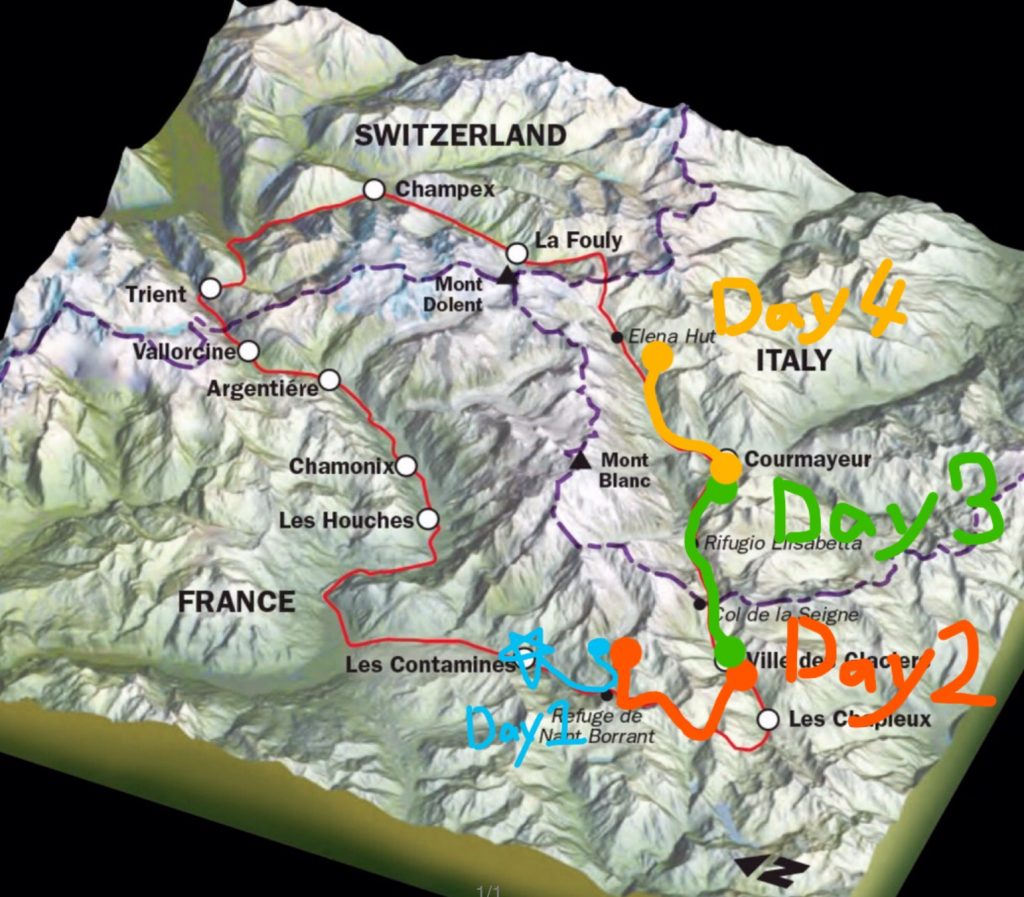 These are related articles.
From Italy to Switzerland on the fifth day. For shortening the schedule, I took a shortcut by connecting the bus and train.

On the day3 of the previous day I came up to Courmayeur.