The highest peak of the European Alps · Mont Blanc.
Not climb up there, the long trail "1 lap around" Tour du Mont Blanc ".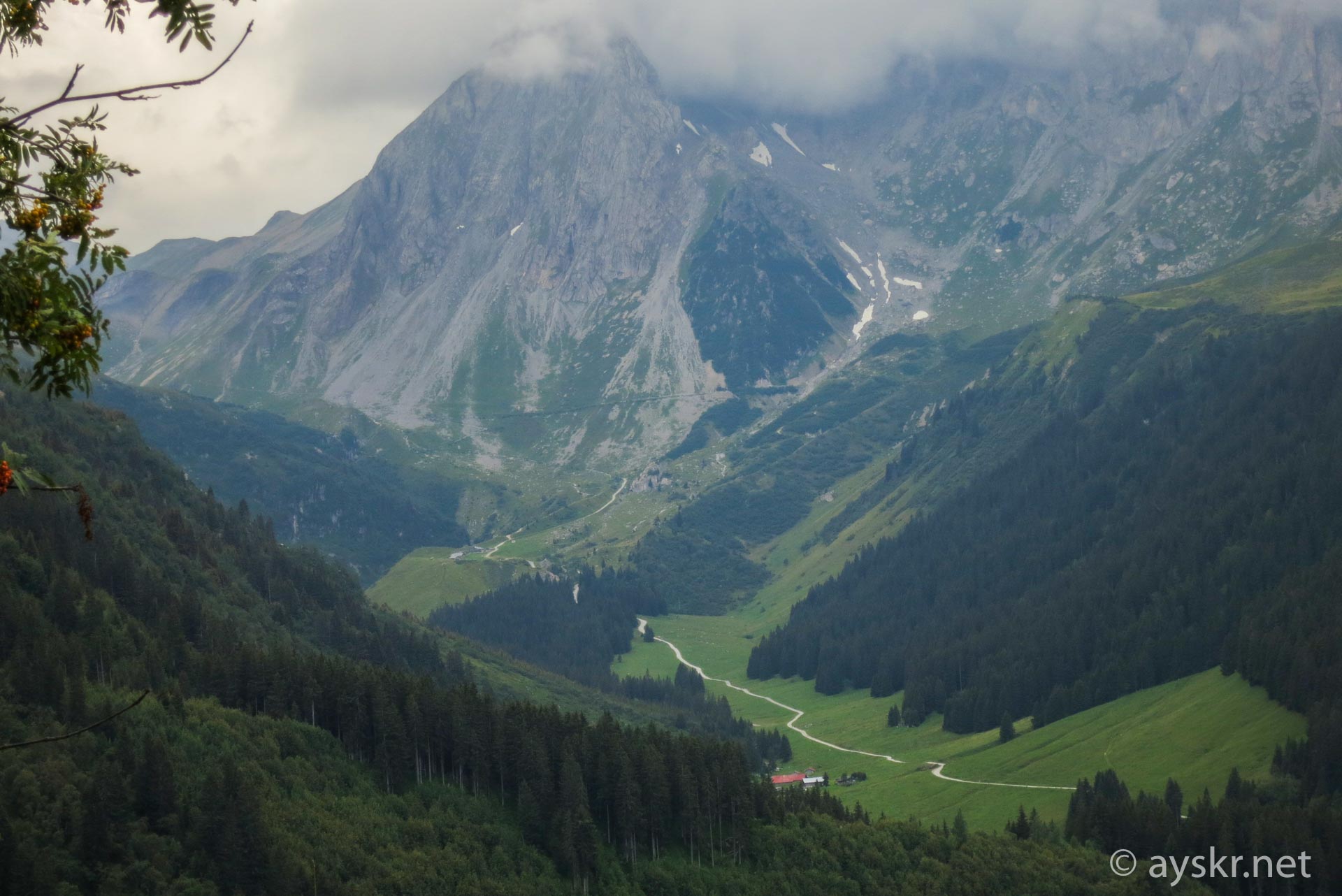 In order to walk this world-famous hiking route, climbing skills and specialized equipment are not particularly necessary, basically just "walk forward". Just by doing so, you can enjoy exquisite scenery.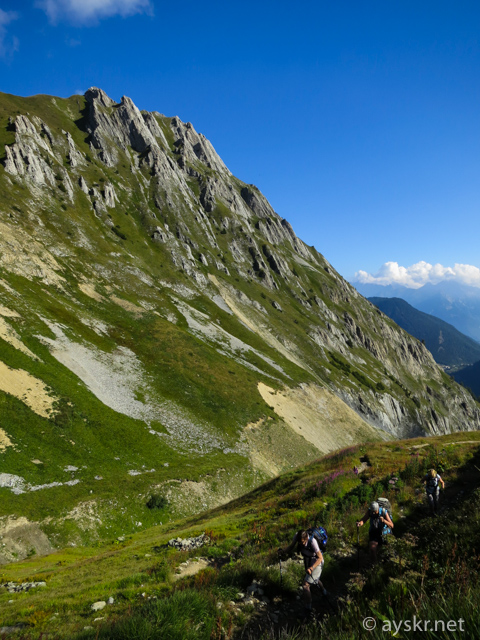 Also, on the route, there are frequently mountain huts or villages with meals, so if you can make reservation, you can set your favorite course according to your fitness.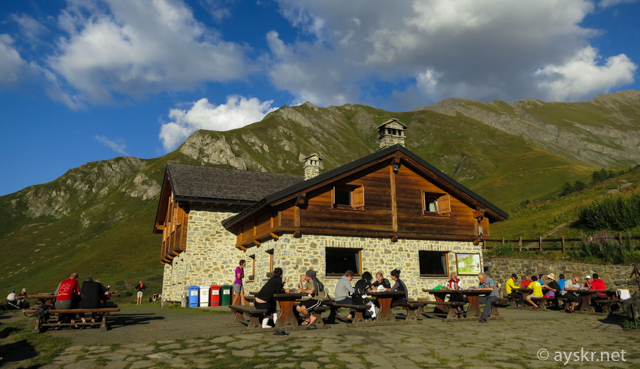 Even though you say,,,, It does not mean that "absolutely safe!" .  I got a question like bellow, so I will tell you the points to note from my experience.
Question: Points for women alone seems to be in danger
"Ms.N" who is planning a trip Tour du Mont Blanc by solo asked questions.
"Nice to meet you.
I'm over 40th, but this summer, I will go to Tour du Mont Blanc of my desire. Your reports was very helpful. Thank you very much.
I'm going alone by a woman, did you have something dangerous? "
Bonhomme Pass depends on the weather
I'm jealous, you will spend summer holiday with Tour du Mont Blanc Hiking. It was a wonderful trail that I would like to go as often as I can get a vacation.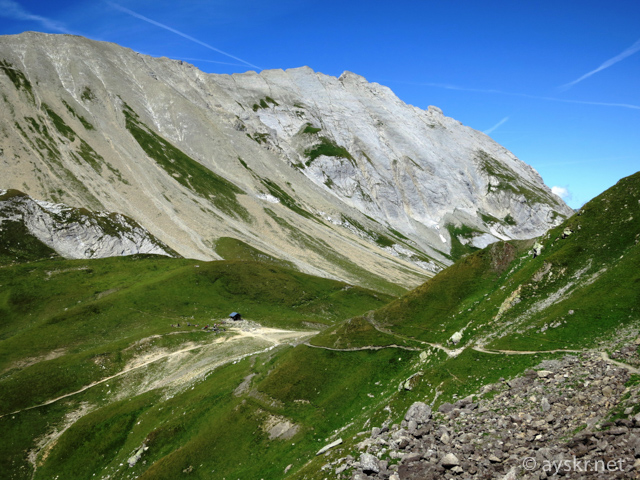 As for question abput dangerous points,
in my journey, the part of the day2, Bonhomme Pass, it is a rocky beyond the forest limit. There are almost no places where you can evacuate. If the weather will be rough like strong winds and rain, it becomes dangerous and I think that you need caution. However, if it is a fine weather it is a wonderful view that will be the highlight of the first half so please look forward to it.
Moreover, the variation route which descends directly from the Bonhomme hut to the Motte hut is difficult to understand the branch, the distance was too long and tough. If passing through the Bonhomme hut will be in the afternoon, we recommend you go down to Chapieu on the regular route.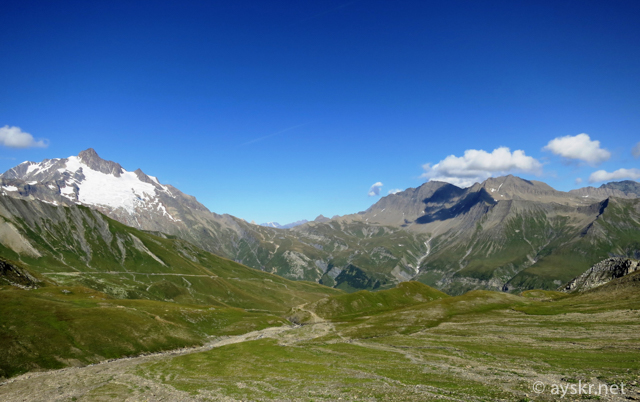 I think that it is good to have a margin for this part, such as staying at the Bonhomme hut or making it a schedule that allows you to go through the  hut at earlier time.
There is the highest point of TMB near Bonhomme hut.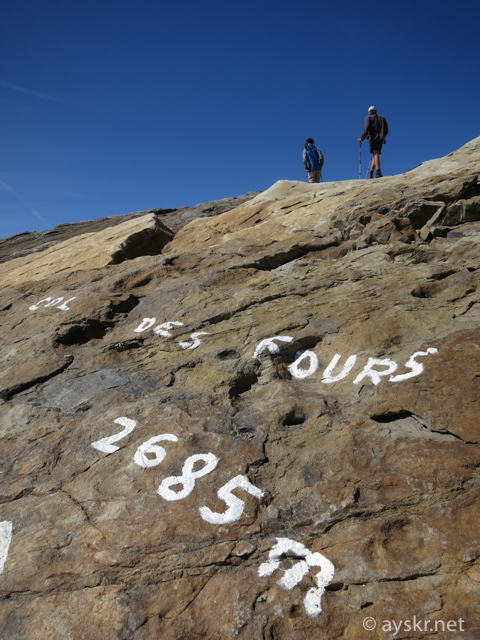 Attention to overlooking the branch point
Basically, a signboard is easy to understand at the branch point. Please note that the road leading from Combal marsh to Colmayeur in the second part of my trip day3 is also easy to overlook the branch.
Once I got on the roadway and was walking well, I made a mistake in entering the mountain trail again and left the roadway as it was. For this reason, I had to climb a considerable steep climb up to the mountain hut to be stayed ,,,,
It is around this picture.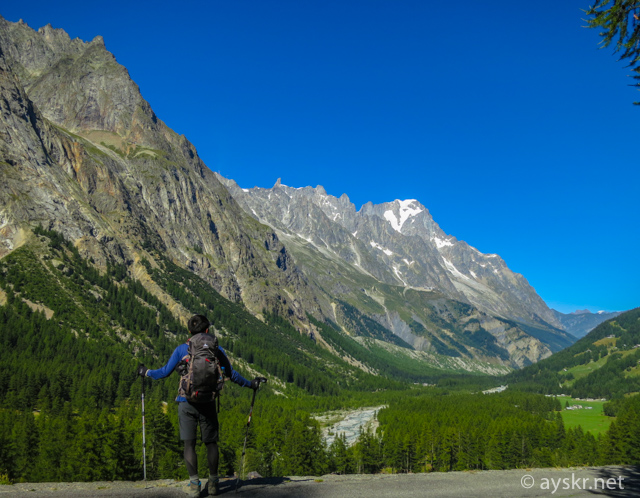 I think that there is such a TMB mark or a yellow signboard at branch.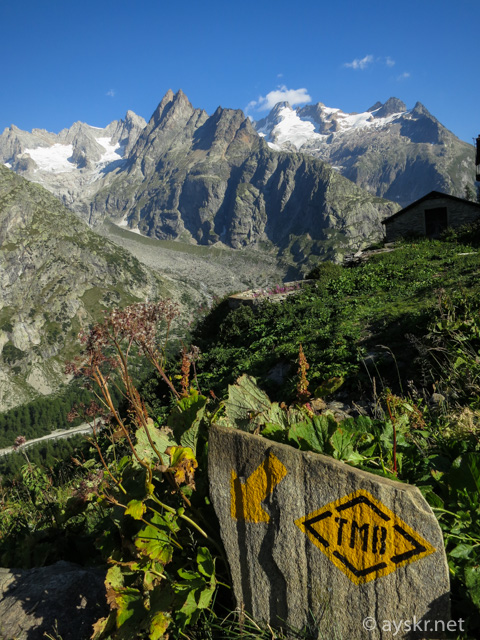 Pasture passage is a surprising difficult
My journey day5. The trail ranging from Gran Col Ferret to the next mountain hut Alpage de la Peule passes through the meadow zone of the plateau.
eHere, cattle were actually grazing and eating grass.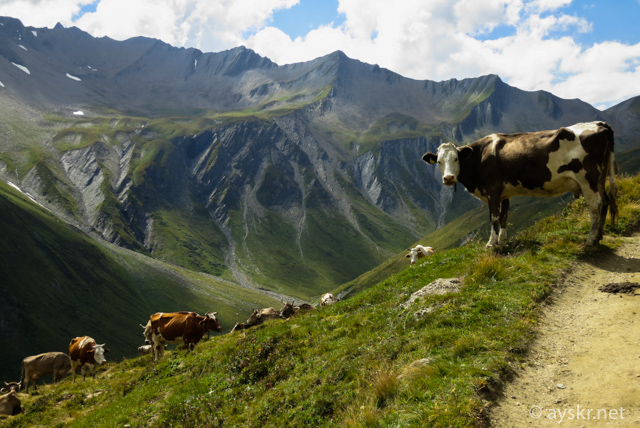 These cows are nice scene to see away, but they were quite big when approaching, and they have horns so I felt fear.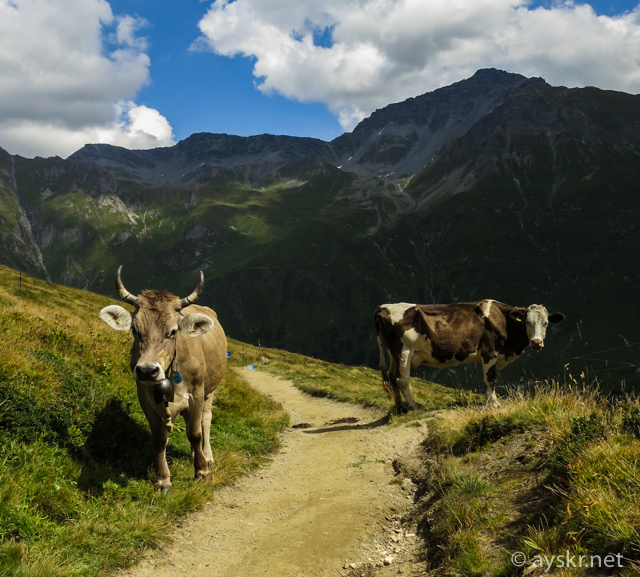 If such cows are blocking the trail and sleeping, I think that there is no choice but to quietly avoid.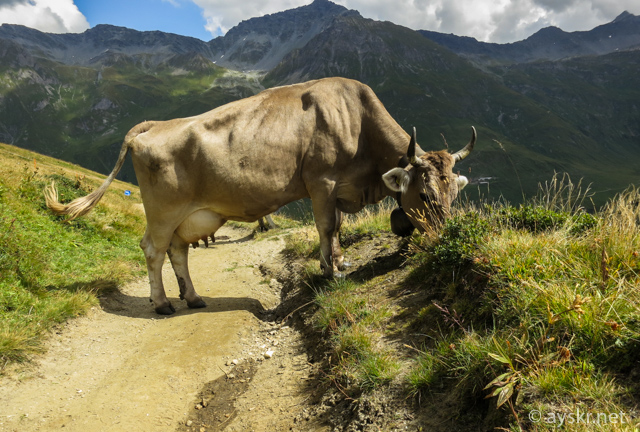 It is dangerous in case you have a contact accident with an excited cow, if there is a woman alone. So I think that it is better to pass along with other hikers.
Variation route to Lac Blanc
I chose the variation route which climbs back to TMB forward direction towards the Lac Blanc hut after crossing the Balme Pass, on my journey day6.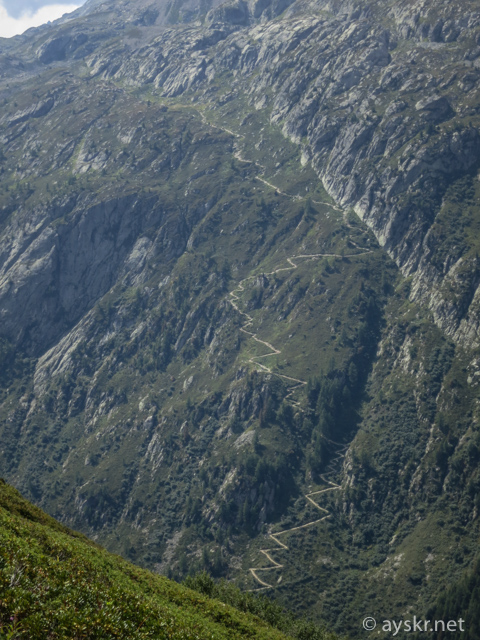 Such as climbing a rocky place like a wall with a chain or a ladder, or a rather narrow road. It was scary to have a big backpack.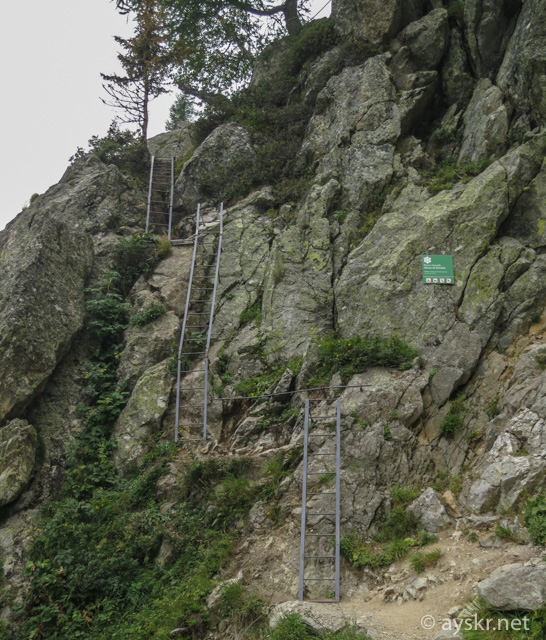 If climbing from the side of the Chamonix which is the opposite direction of the TMB, there is no such dangerous places, so it is safe to travel from Chamonix, as we can use the gondola considerably upwards. (Guests other than me did it, I heard.)
The side of Chamonix is ​​such a safe way like this.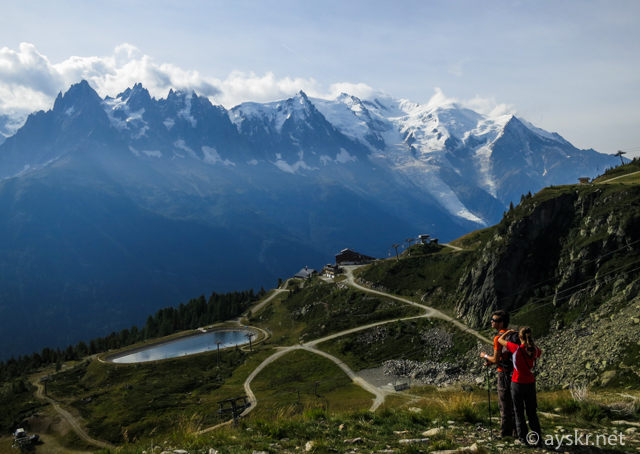 Or, maybe it is a schedule for Chamonix to go together with Flegere and Brevan. The view of Mont Blanc from Lac Blanc is wonderful, so please do go.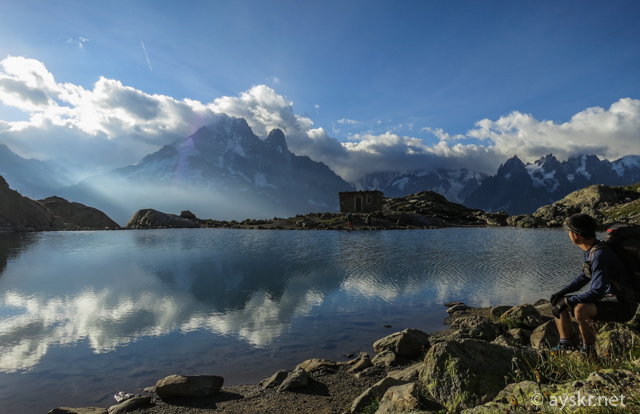 do not know = scary
To challenge a totally unknown place that has never been done is still accompanied by fear. Especially because there is no one to rely on personal trip.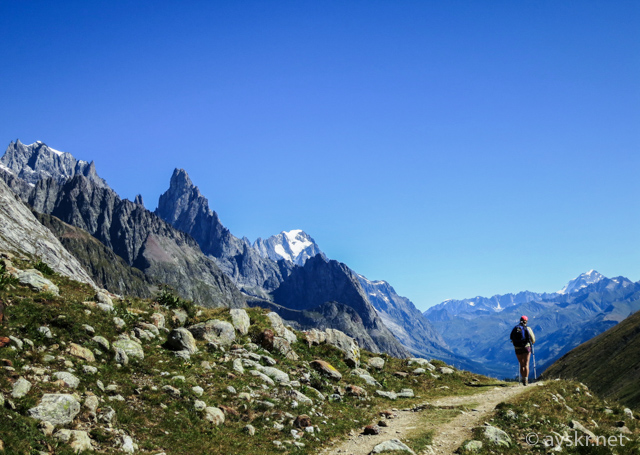 Actually, I was also chattering before I walked through Tour du Mont Blanc. I think that getting fear out is getting as much information as possible from experiences stories and guide books.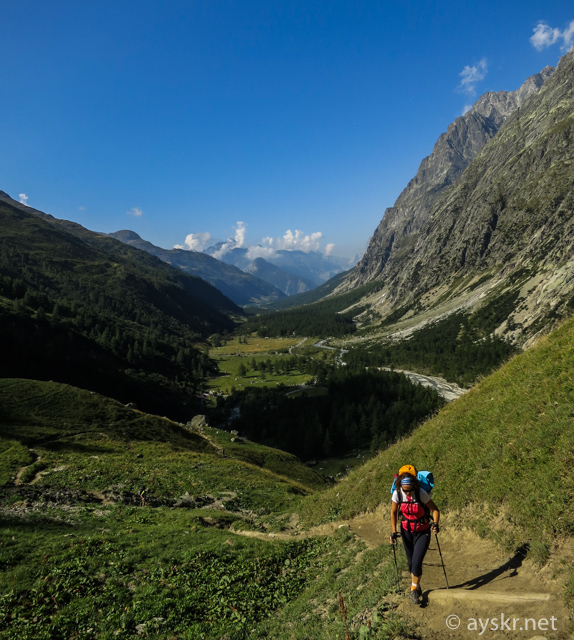 Whether you know or not, your feelings are much different. You can prepare accordingly. However, information of Tour du Mont Blanc is still less in Japan. I hope all of you who were interested in this wonderful trail will actually go to the site and experience it. My travel reports will be able to serve even a bit of  as a trigger to.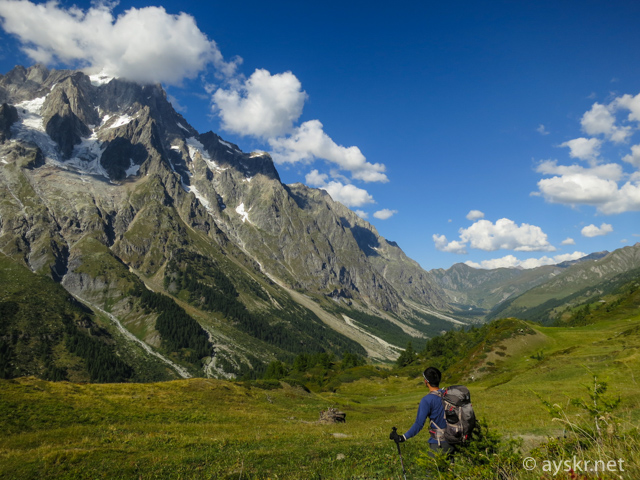 It is no doubt that it will be a wonderful trip if the weather is nice. Please have fun!
I compiled the things I prepared for my Tour du Mont Blanc trip.

The trip of Austria · Tirol was also good