In December 2018, I went to Okuni Shrine in Mori-machi, Shuchi County in west Shizuoka prefecture to see the autumn leaves . In Shizuoka it is a shrine famous for autumn leaves.

> Okuni Shrine official website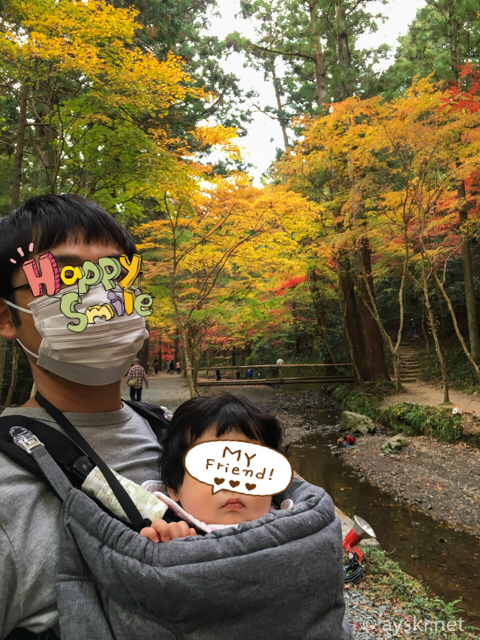 Worship the shrine
It was a weekday in the beginning of December, but there were many cars in the parking lot. I will visit the shrine immediately.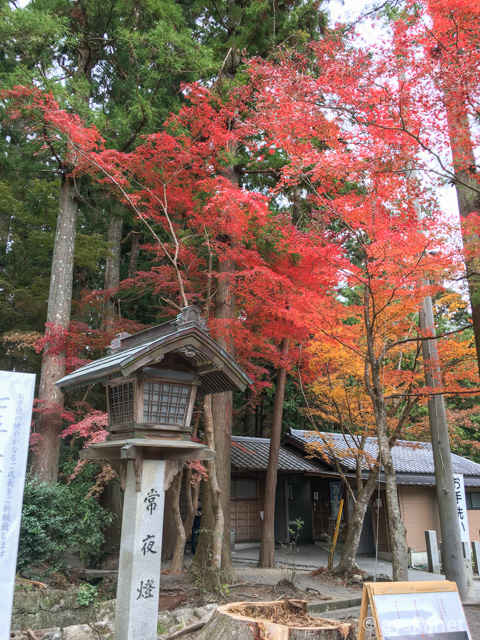 Brilliant autumn leaves welcomed me from the entrance.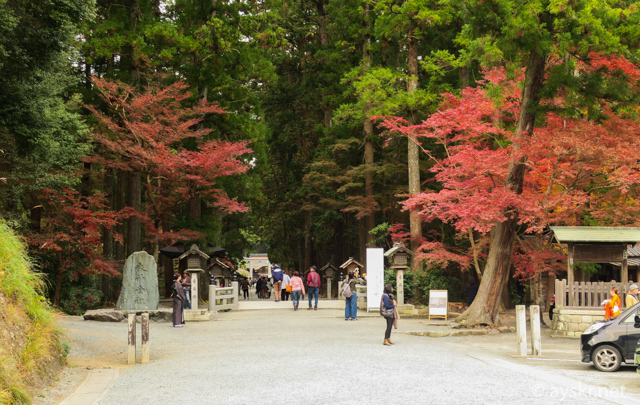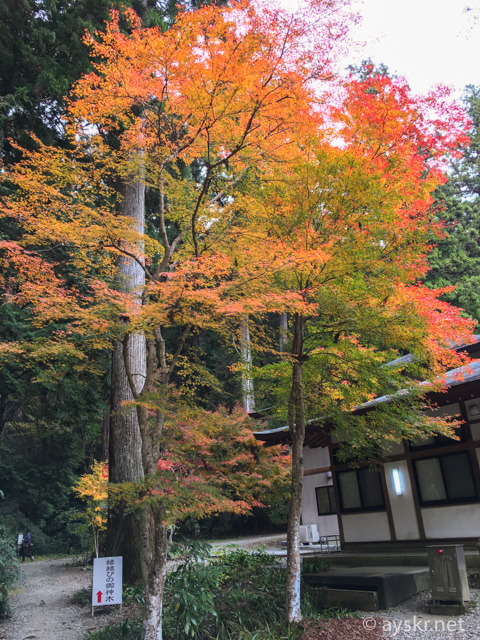 You can see the shrine at the end of a row of big cedars (?).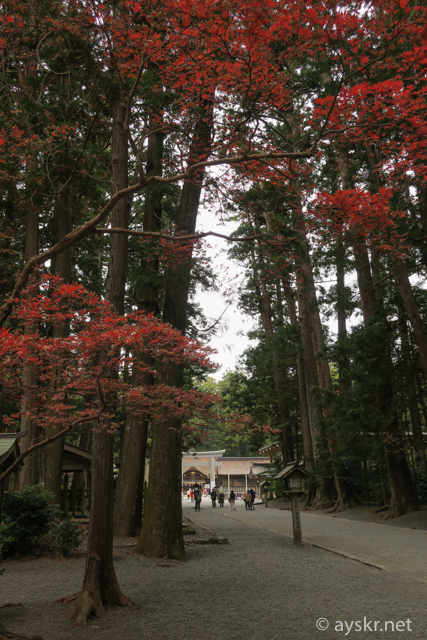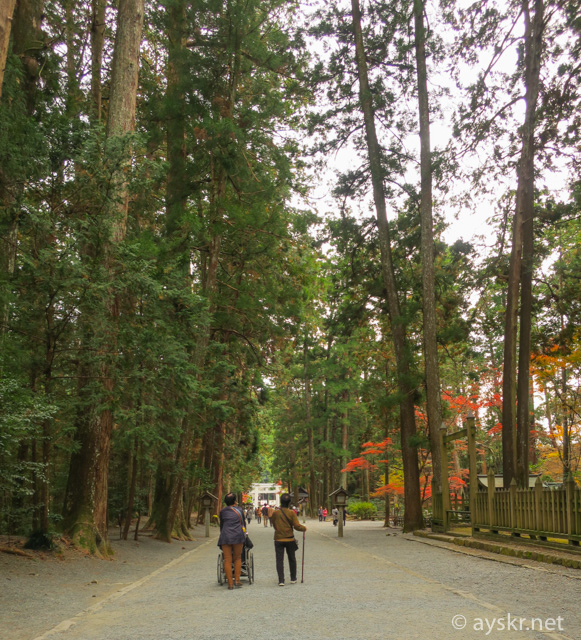 Holy wood was enshrined. The roof looks like Princess Mononoke.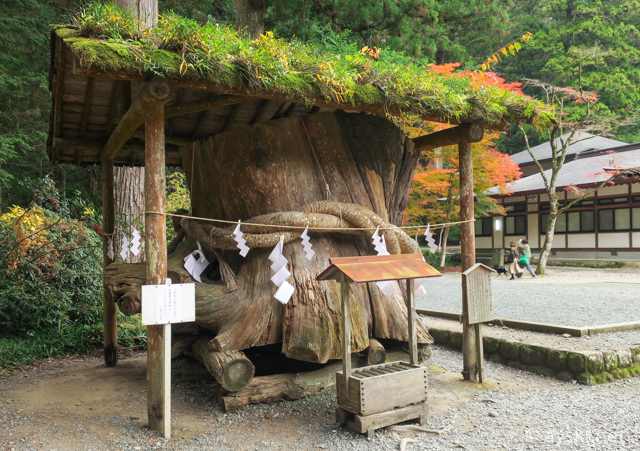 Autumn leaves around the shrine
First of all, we went around the shrine. It is behind the company office on the left side towards the shrine.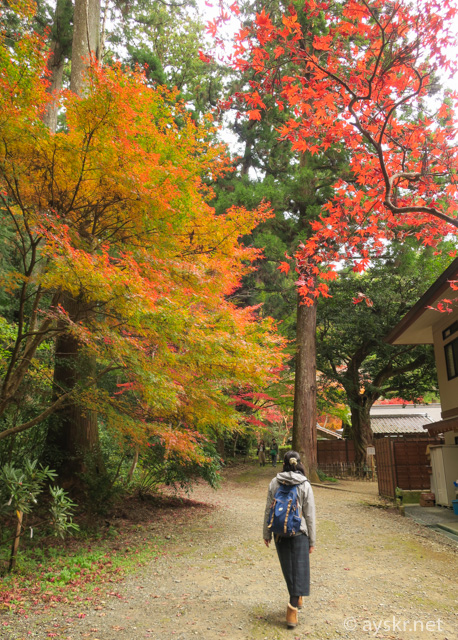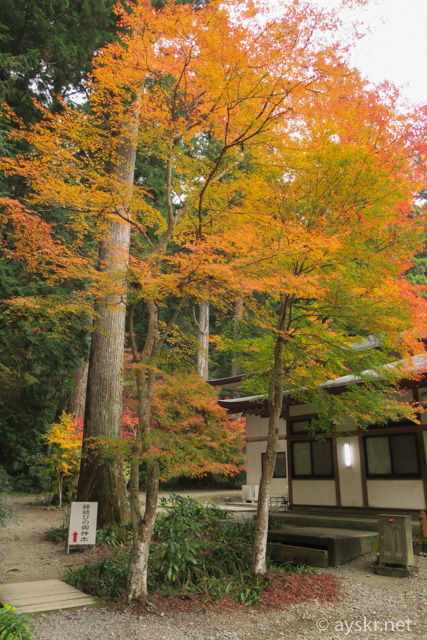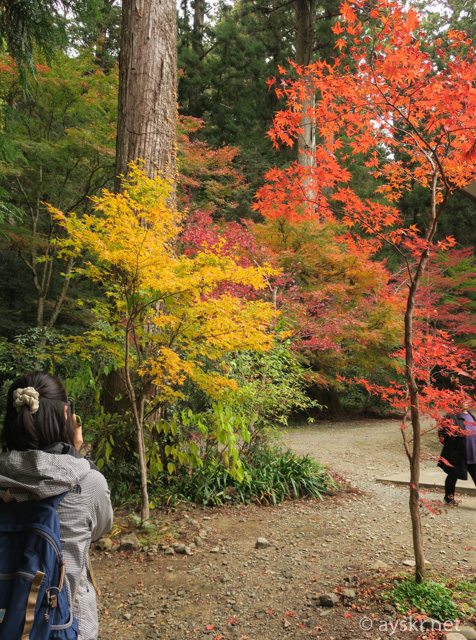 Is this on the way of coloring? The green, orange and red gradation is beautiful.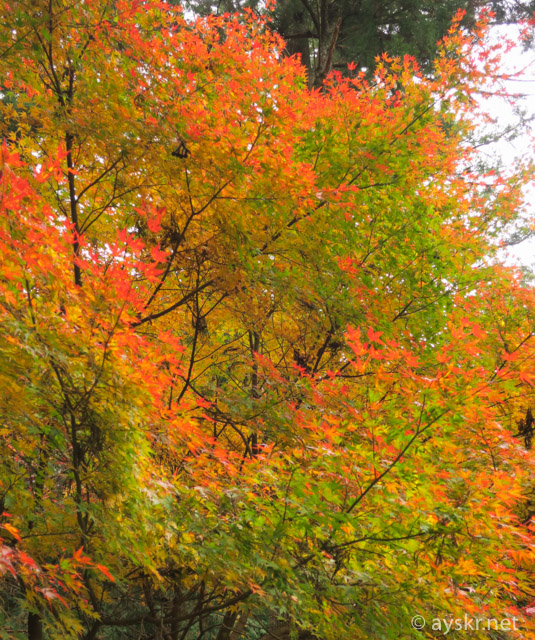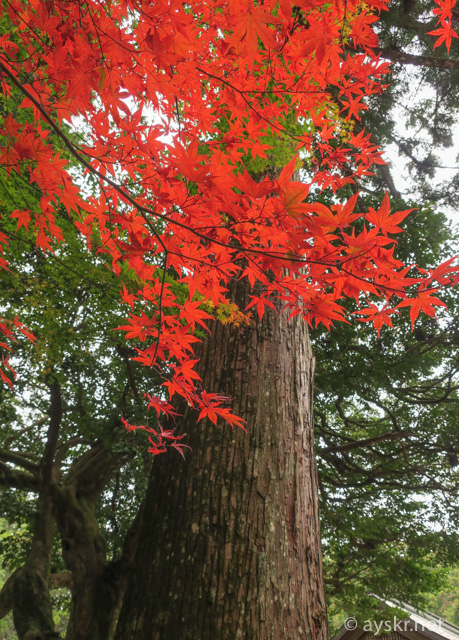 This is the main shrine.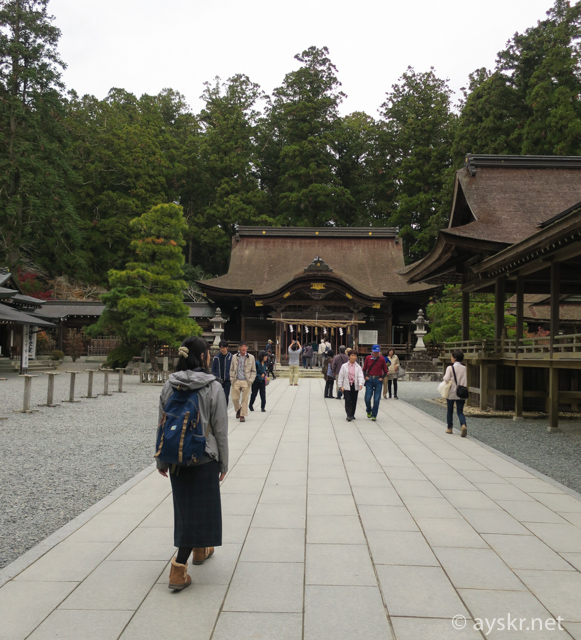 There were many strings for ringing the bells. Even if it is crowded, it does not stop traffic.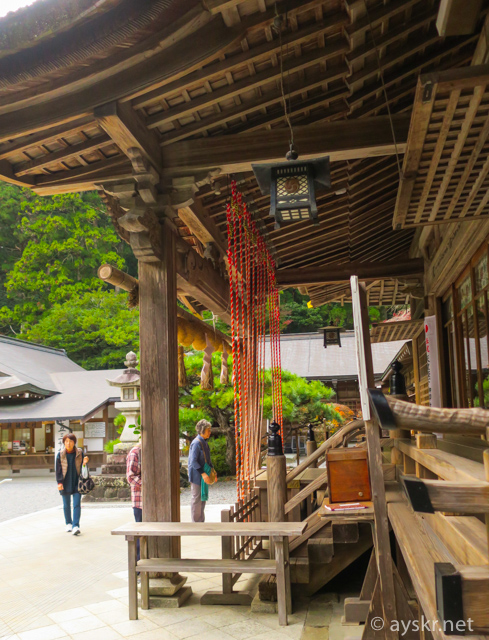 This is the shrine maiden 's stage. I remember the movie 'Your name'.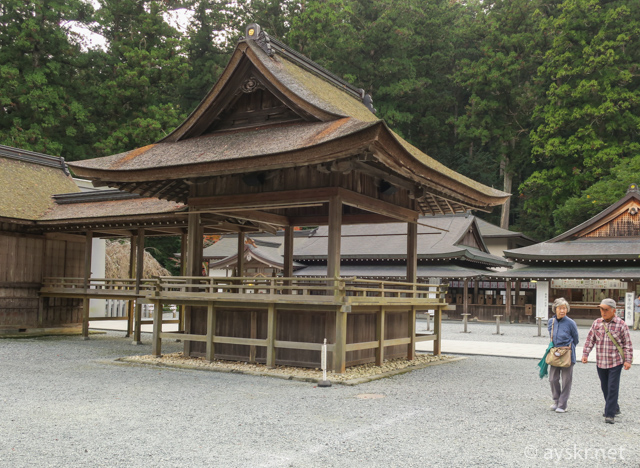 Walking along the Miyagawa
The main autumnal leaves are walking streets along Miyagawa.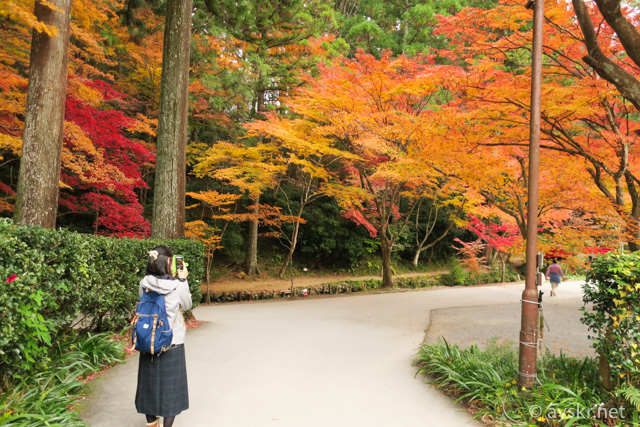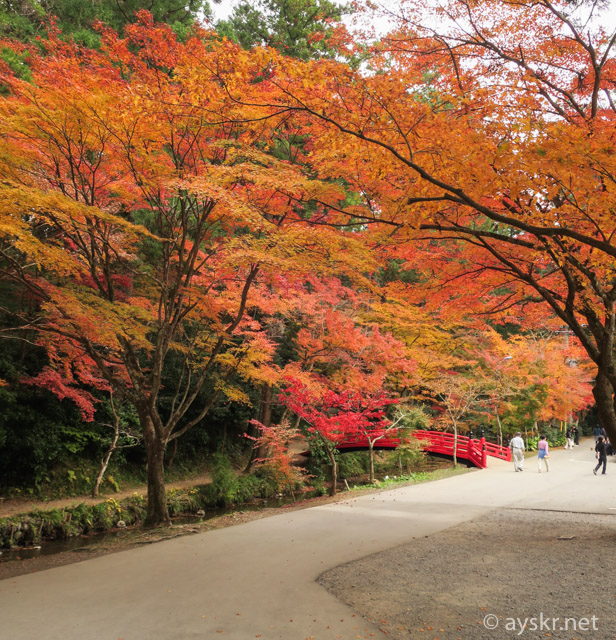 Following the river is a tree lined with autumn leaves.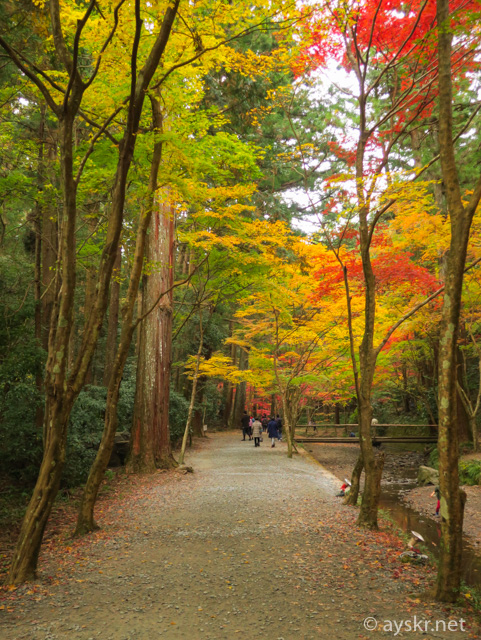 There were some people who got off to the river and shoot.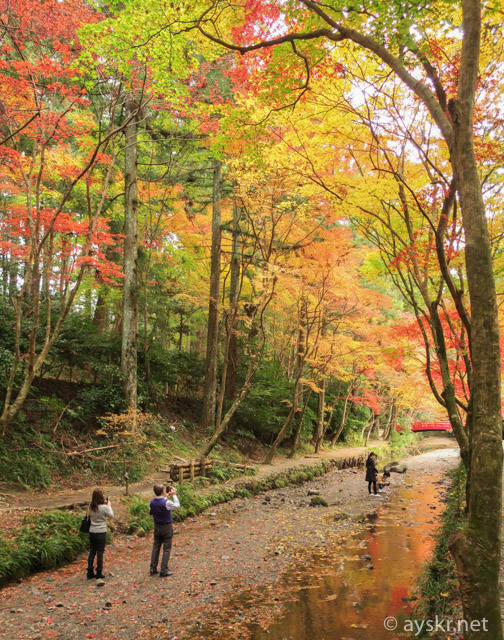 It was a very vivid coloring.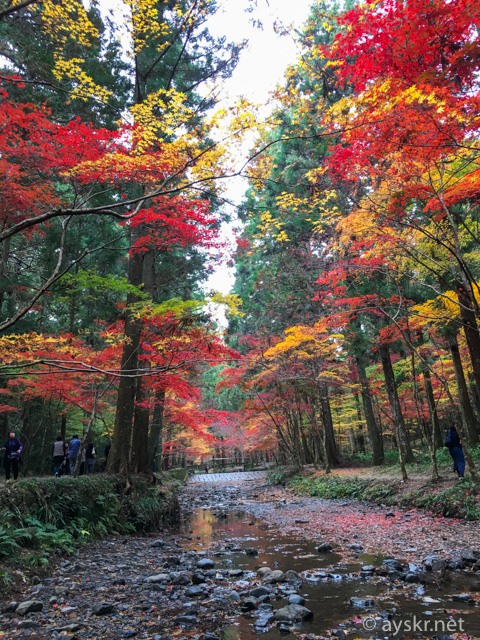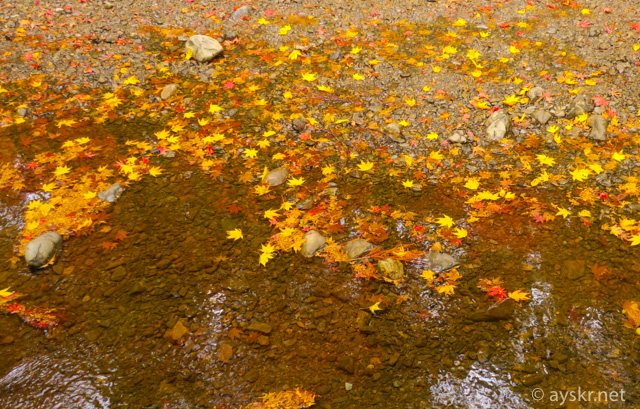 Okuni Shrine Autumn Leaves Photo Album
It was a walk along the Miyagawa river of Okuni Shrine it's like in the painting.
Snack time after the walk
There are many shops in front of the shrine so you can enjoy snacks and meals.

It is Mont Blanc soft cream and roasted dumplings of potato.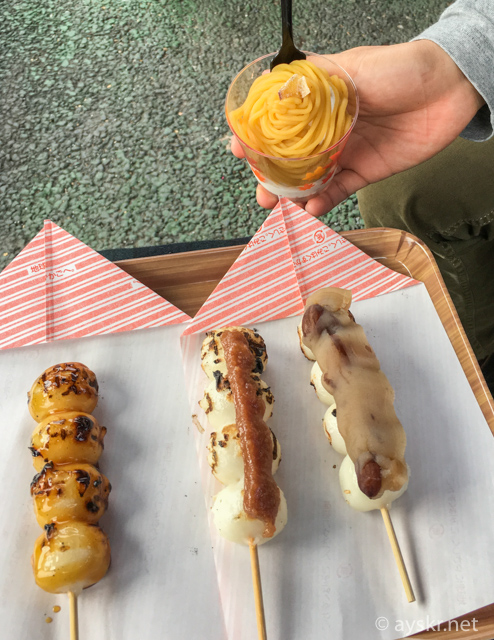 Access and accommodations etc.
It is convenient to go to Okuni shrine by car. It is the nearest from the smart IC of the Enshu-Morimachi parking area of ​​Shin-Tōmei Highway to shrine about 10 minutes. > Traffic guide (from official site)
In addition, it is about 20 minutes away from Fukuroi IC of Tomei highway.
If you like train, it is fun to go from JR Kakegawa station by Tenryu Hamenako Railway (Tenhama Line for short). A minibus for transportation is operated from Tootoumi-Ichinomiya station which is nearest to the shrine, and the Tenhama line is recommended because the view of the nostalgic station building, bridge, Hamanako scenery is very beautiful. > Tenryu Hamanako Railway Official Site

Morimachi and surroundings information>TripAdvisor
Speaking of luxurious accommodation in the neighborhood there is Katsuragi Kitanomaru . In the 2002 football Japan-Korea World Cup, it was a base for Japan representative. Check it > Booking.com
The reasonable and nostalgic accommodation is "Guesthouse Mori to Machi". Check it > Booking.com