Travel in winter in Okinawa, Zamami Island.
The last day was raining since the morning, so we decided to go back to Naha early on the way.
Makishi Kousetsu Ichiba (public market)
From Kokusai-Dori, we will enter "Ichiba-hontori" with roof.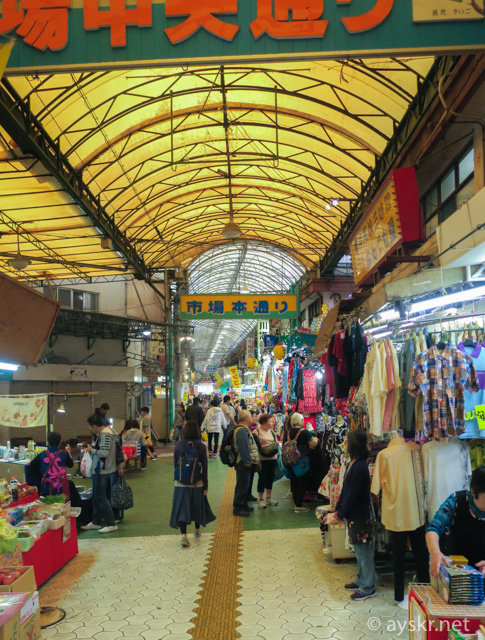 At first sight, I think that it is a souvenir shop street that tends to be in sightseeing spots, and as we move in, it changes to a local landscape more and more.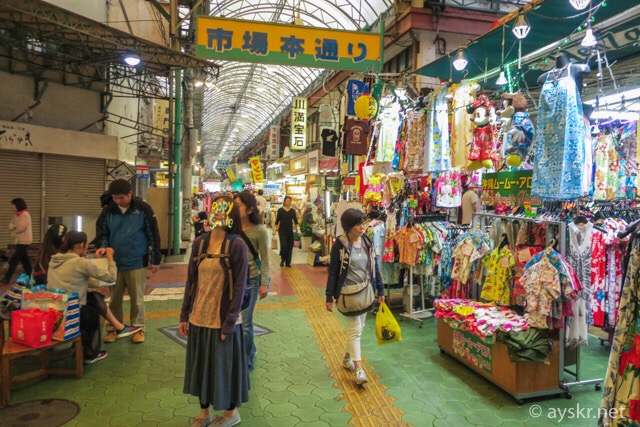 And this small door continues to a deeper world.
Colorful Market
In the narrow passage of the Makishi public market, the place is narrowed and the local ingredients are lined up.
Fish in rare appearance.
I do not know well, but something colorful ,,,
Shrimp and shellfish of a size that I have never seen before!
I remember the market in Southeast Asia ,,,, In Asia, this is Japan. Especially there is no smell that you care about, everything is fresh. Shrimp is slightly gourd color, but
Shells are big! Everything looks delicious.
Although it is sold in fillets, it is said that you can choose foods you like and cook in the dining restaurant in this market. Sometimes the recommended recipe is written.
According to the store's lady, "Even if you just ordered at the second floor dining restaurants, there are only normlal loca dishes such as Chample, it's boring, so you should  get something here and order to cook. "
Pushed by the momentum of the lady, I chose a blue fish called  "Irabucha"  and a red fish (I forgot the name).  Something something amazing ,,,,.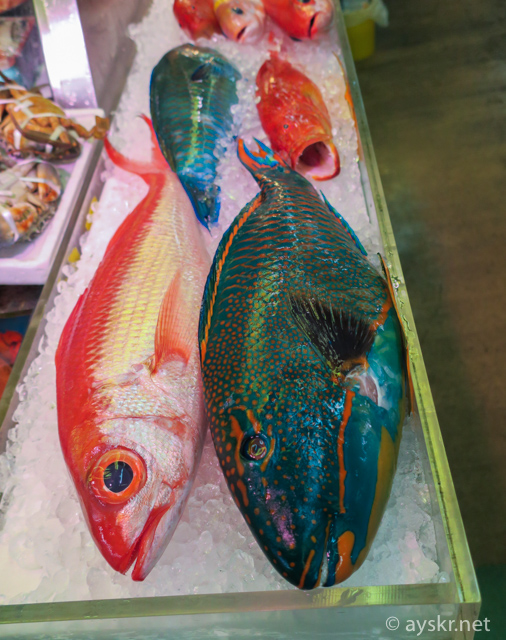 The second floor is a market street in Asia
Although I thought that I will bring the selected ingredients to some restaurant,  there seems to be a partner relationship between the shop on the first floor and the restaurant on the second floor, I was introduced to one.  Anyway, we are a small traveler who keeps on the momentum of the lady of the market. It is a restaurant "Chu-ra-hana".
The clerk was like a Chinese person. There are a lot of customers who are supposed to be from China, and it is like feeling lost in some Asian country.
Waiting for food while fidgeting.
Fresh fish in the market, first with sashimi. The color of the light cooked leather on white meat shines and it is vivid.
Another whole half was deep fried. It was a recipe recommended in the market lady. Butter and garlic are good and delicious. Is this Chinese technique?
The remaining body and Ara are in miso soup. There are full of bowls even when saying,,,,,.
We have had banquets from noon.。
As the entire fish will be purchased, it costs about as much as going to an Izakaya, but I was so satisfied with the taste and atmosphere, while I was in Naha, I felt like I was in a different world!
Okinawa trip in winter, this is the end. It was delicious.
[Today's memo]
In the atmosphere of the stands in Southeast Asia,  we felt exciting that we can not expect what kind of dishes the selected fish. Choosing ingredients in the Makishi public market, it is recommended.
From Zamami Island trip, from the first day from here

the night before, I brewed pubs in Zamami Island