The trip of the Yatsugatake Plateau, which I went with baby in August 2018, is the continuation.
Symbol of Kiyosato · Seisenryo
After walking around the garden of Moeginomura, I will head to the symbol of Kiyosato · Seisenryo . It is a historical place that was founded as a Christian training facility in 1938.
Because there are many movements in the premises, a stroller is activated.
Restaurant and souvenir shop building. It seems to be a lodge in Europe. My daughter fell asleep ,,,
The flowers of the planters decorating the veranda are cute. It reminds me of mountain trips in Europe.

Building of hotel of historical Seisenryo is this triangle roof. Tourists also entered the lobby.
Rich soft ice cream of plateau
Because we are hungry, we will move to the cafe "Jersey Hut" .There were many gravel roads on the premises and it was hard to move in the stroller, but there was a narrow paved road from the hotel to Jersey Hat.
Clouds are near. It is a scenery of a refreshing plateau.
We took a commemorative photo with a jersey hut sign. Rich soft ice cream is a specialty.
I will look at the mountains of Yamanashi and the landscape of the ranch.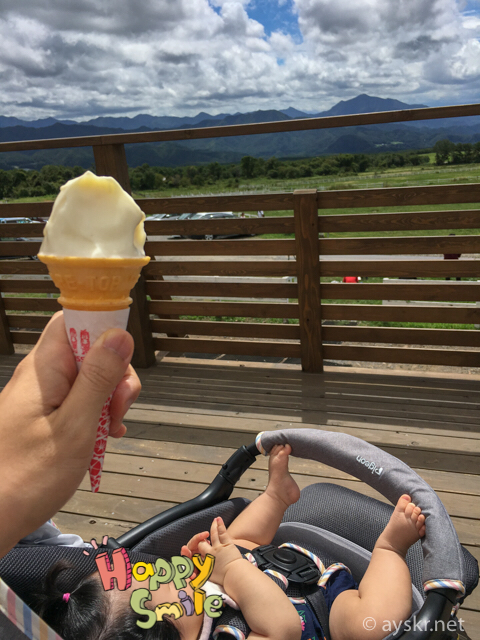 Jersey Hut has such a wide wood deck, so you can relax while touching the breeze of the refreshing plateau.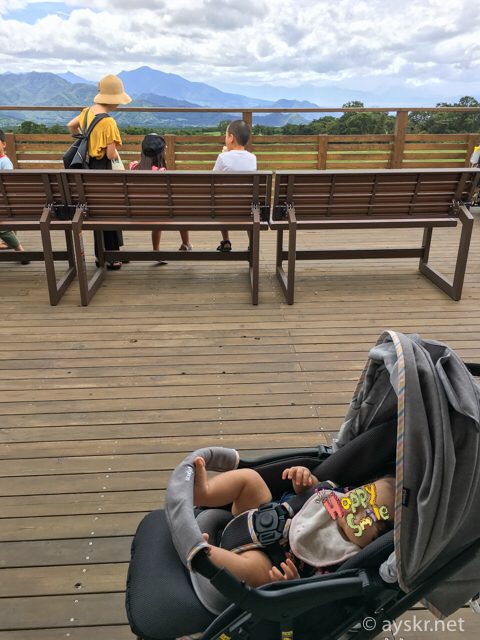 My daughter seems to be comfortable.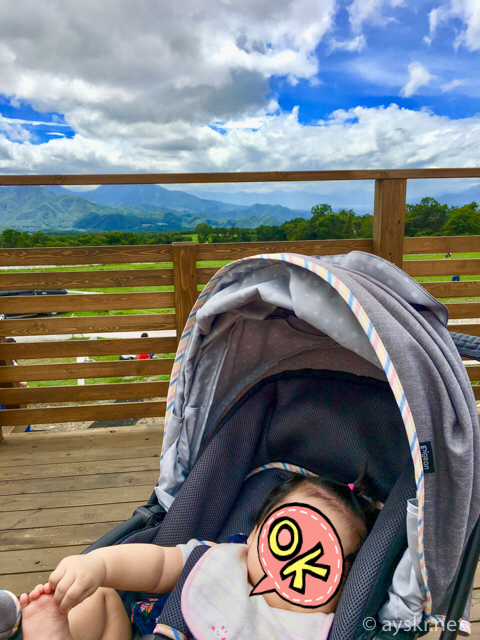 It was a hot summer, but here was another world.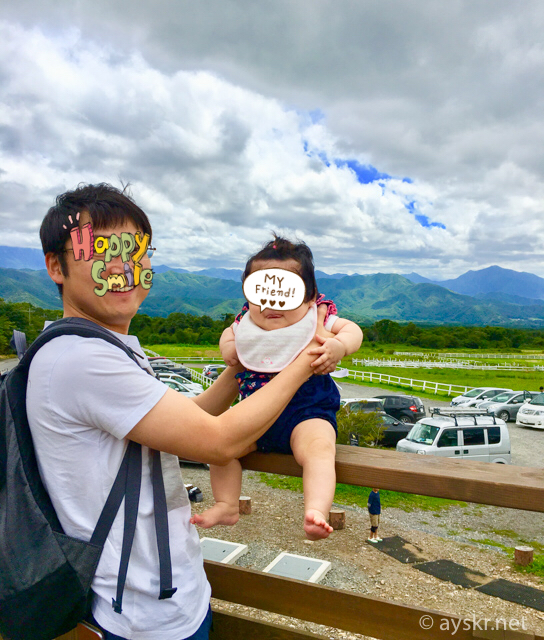 At home,  outside was too hot in the daytime and my daughter could not get out much. If you do not worry about heat stroke here, she can move cheerfully.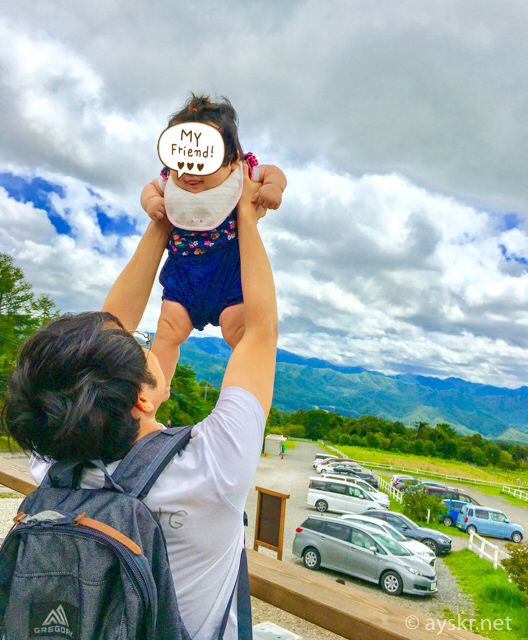 Explore the Yatsugatake Forest
From the main building of the Seisenryo opposite the road. I stopped by at Yatsugatake Nature Interaction Center .'
This is the entrance of the Yatsugatake forest. Several courses to explore the quiet forest are prepared. I decided to walk around the 30-minute walking path "Mt. Fuji and Seseragi no komiti(Small path)" that I could go with my baby .
My daughter will take with a hug string.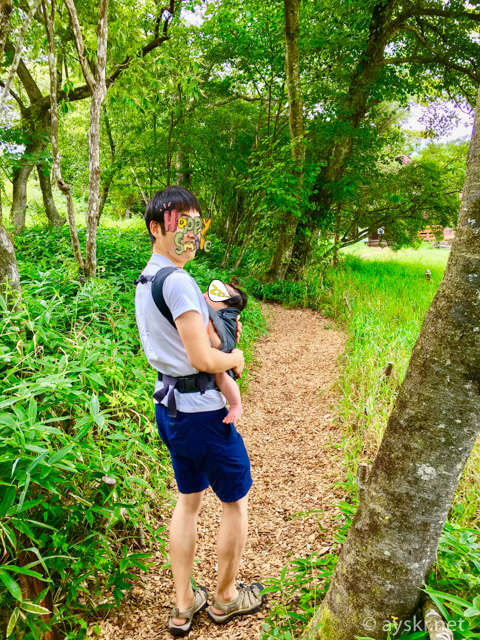 Hanging string for traveling is outdoor maker mont-bell's, it is recommended because of light and compact. The link below is red, but black is stylish.
Wood chips are spread and it is a fluffy road.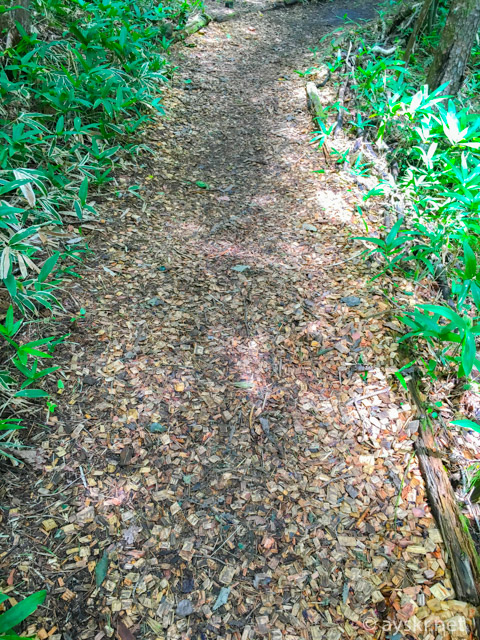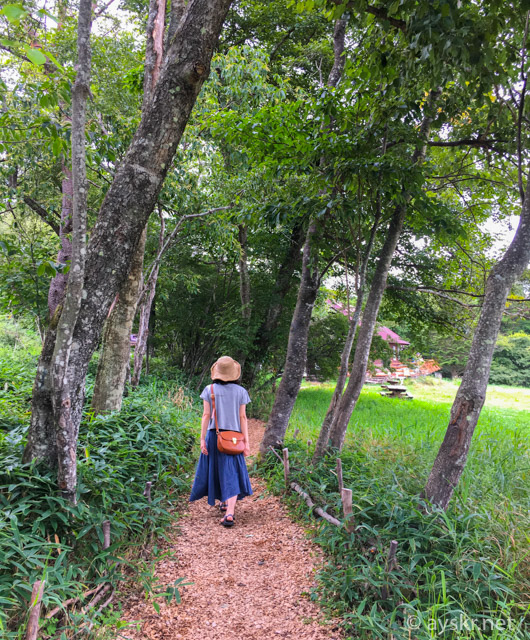 You can enjoy the quiet and pleasant highland forest.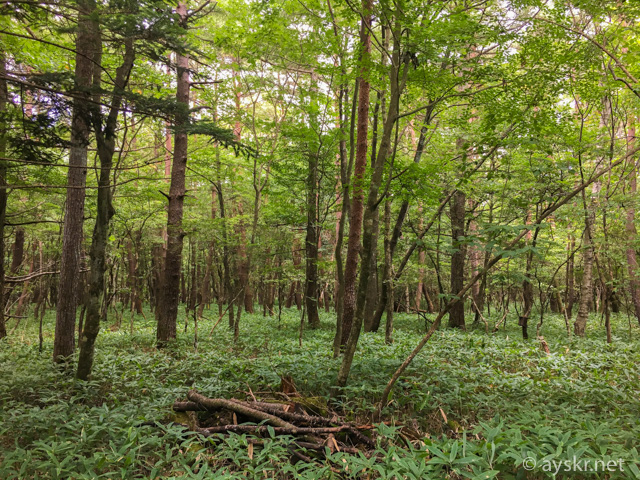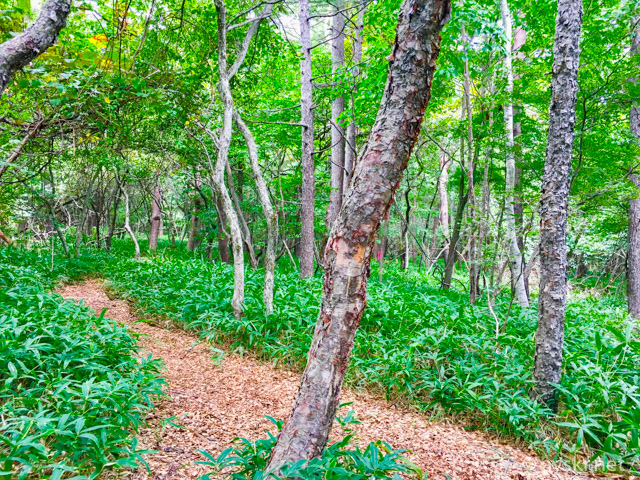 A pleasant forest walk. It seems to be washed from the body if it breathes deeply.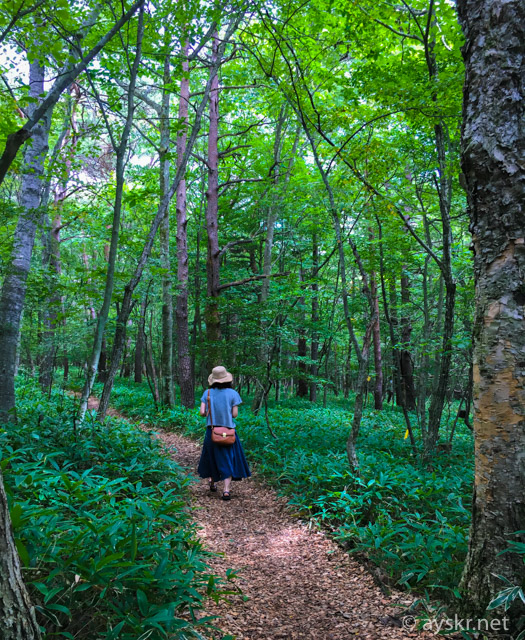 It is a walking path that can decorate the cover of outdoor magazines.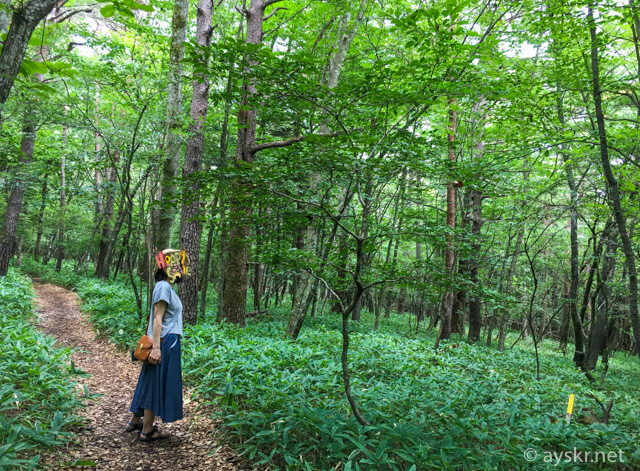 It's short but it's an unexpectedly deep forest course that goes round, so you can enjoy hiking casually with a child. We also took a walk in the forest for a long time.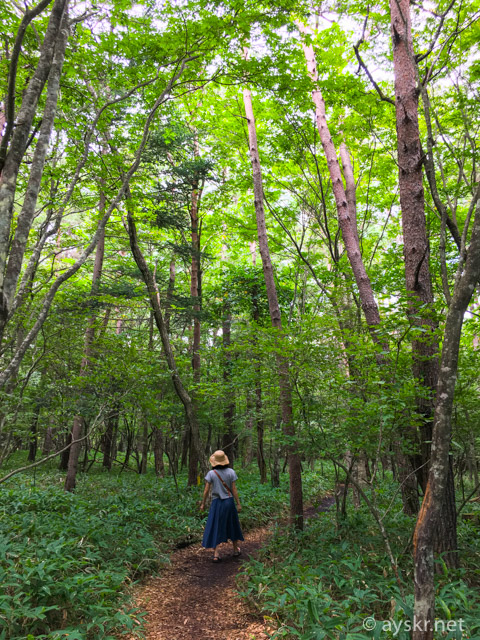 I was healed with the air of the forest. Sesenryo is not only soft ice cream! I can recommend this course for children.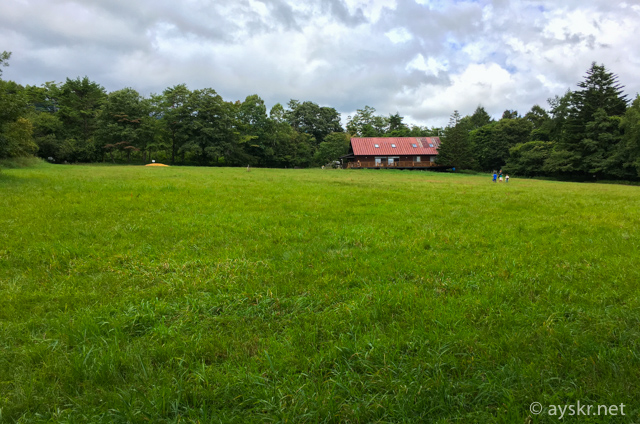 Accommodation in a cottage in the forest
This time, we stayed at Neo Oriental Resort Yatsugatake Kogen, which is certified as " Welcome Baby Inn" selected by children's clothing maker · Miki House .
In the vast forest, cottages was scattered and I could spend without worrying about my baby was crying loudly.
This is the cottage where I stayed this time. It is still new. It is the aspect of Japanese modern. How, it was with an outdoor bath.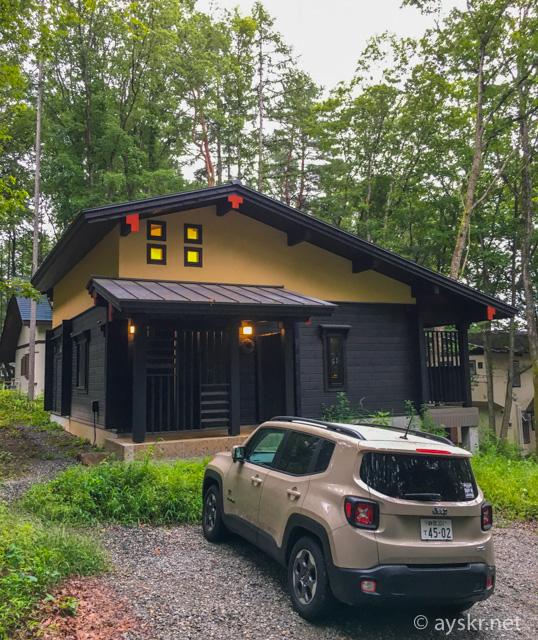 Nature is full also around the cottage. It looks pleasant even if you take a walk in the morning.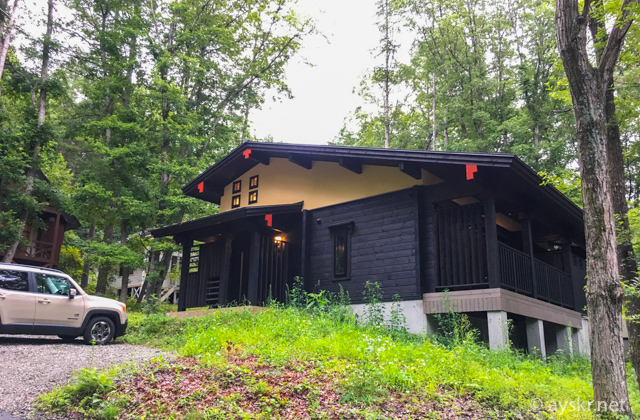 Because it is a single building for one group, there are bedroom and,,,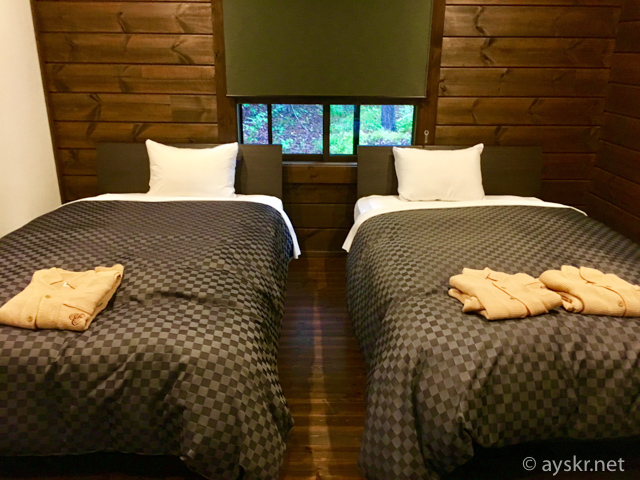 There is also a Japanese style room and a futon, so it is safe even if the baby crawling. We also lay a futon in a Japanese style room and slept. Besides it is equipped with air purifiers.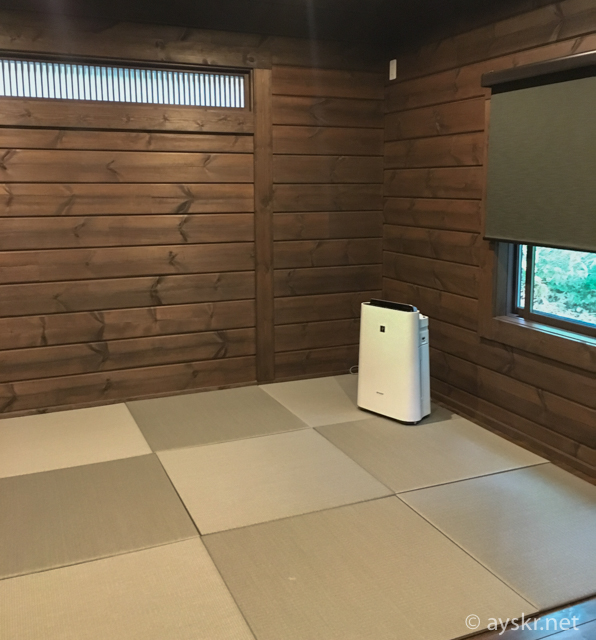 They will lend you baby mats, chairs and bouncers. Besides this, they have prepared baby soaps and diapers, garbage can for diapers, and dishes that can not be broken, so it is an inn that is very easy and secure for families with babies.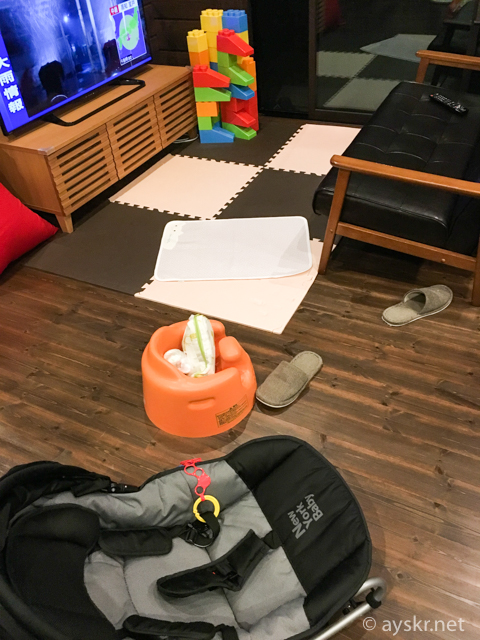 In addition, there is a large public bath in the building with reception so that mothers who are usually tired can also heal, stuff will pick guests up from the cottage away. Great.
There is restaurant, too, but this time we ordered a barbecue plan. It is a style that stuff brings food and cooking stove to the cottage and burns and eats ourselves.
There are lots of meat and my daughter is also surprised! Just to be sure, I bought a little meat at a nearby butcher, but quality and quantity were enough in the plan.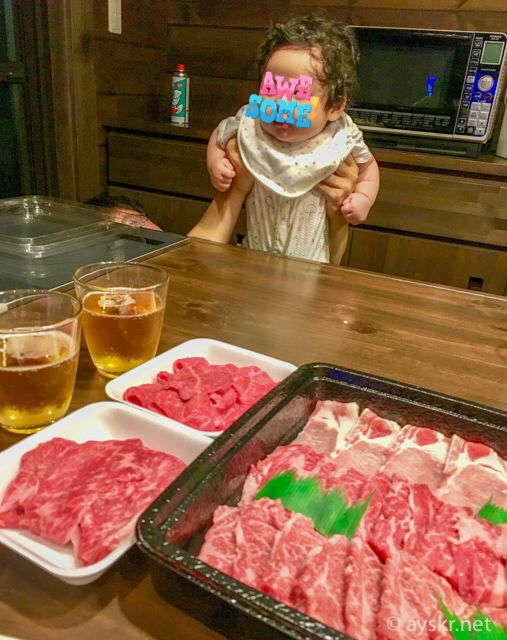 Mother who is tired of raising baby is delighted with the grilled meat of long time.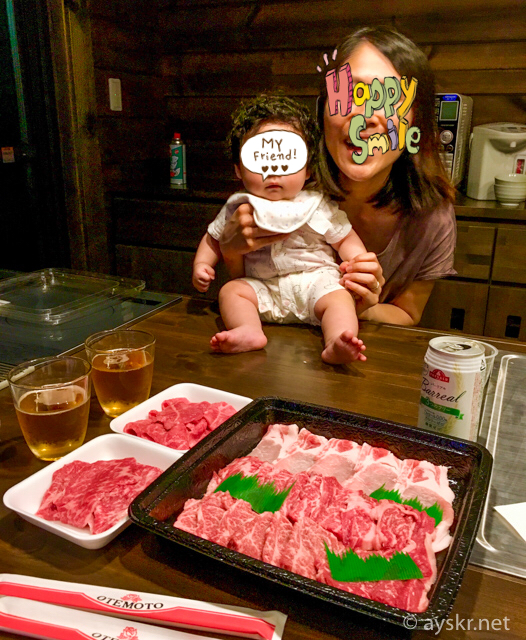 Cooking utensils were good. Me could grill meat delicious while dropping oil with a special steel plate like stone. (Barbecue ingredients are less vegetables, so if you procure somewhere you can enjoy even more)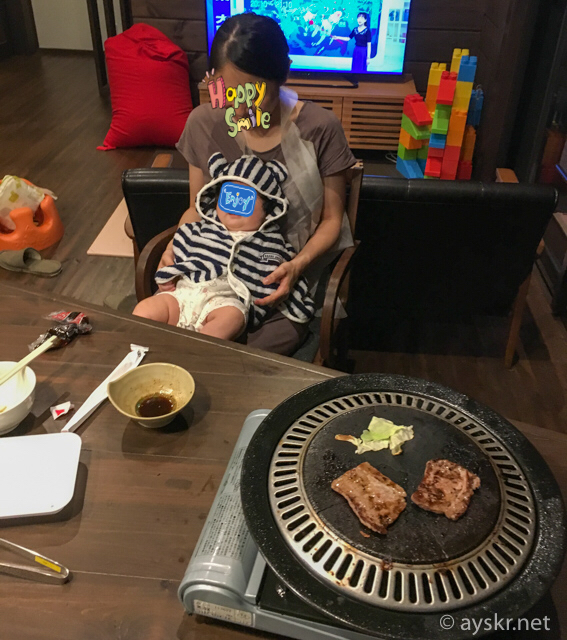 Not forget the baby's warm cloth as the summer. It'll become cold in the night of Yatsugatake highland.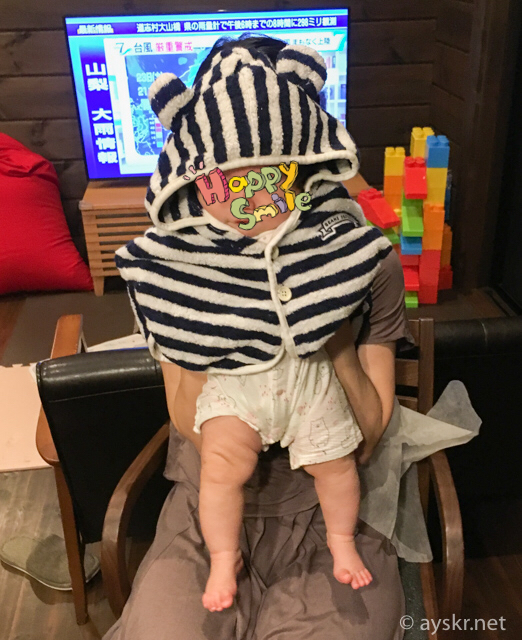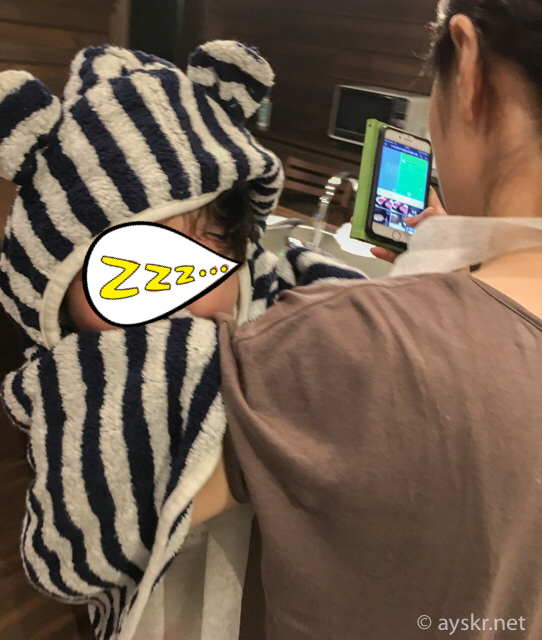 Check out time is 11 o'clock and late enough. It was a great satisfying hotel to spend relaxingly.
Souvenir of Nama(Raw) Shingen-mochi
On the way back, I stopped by a long-established store of Japanese sweets in the same Hokuto city, Kinseken Daigahara-honten and purchased raw Shingen Mochi as a souvenir. As its name does not keep it as long as few days, it is a very delicious sweet that can be bought almost here only. Of course I also bought it for my home.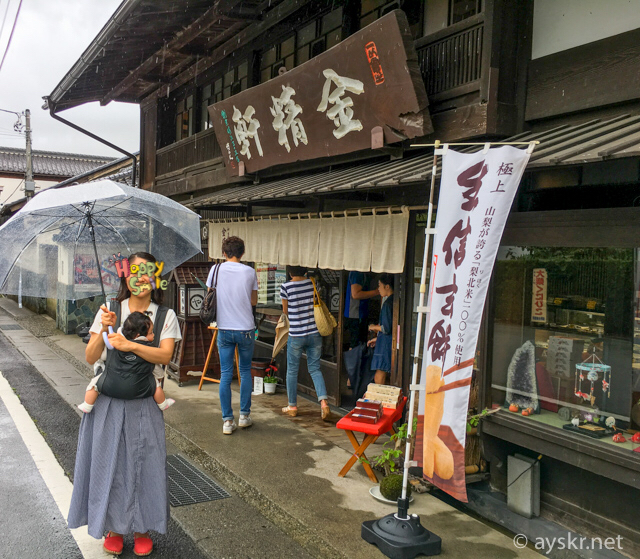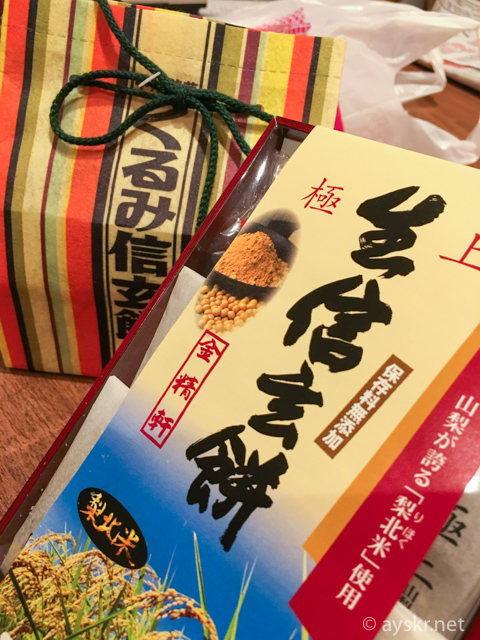 The trip of the Yatsugatake Plateau with baby, this is the end.
I think that it is the key to take a relaxing inn and  does not pack the schedule much as it takes time to take action with baby.
I also want to challenge by looking for another destination.
This is related article.
The trip of Yatsugatake. The first part, we took a walk through the wonderful garden which made use of Yatsugatake 's vegetation in the Moeginomura.