Okinawa · Zamami Island winter trip. I will try local Izakaya(pubs) on the night of the second day.
Before that, I enjoy the island time with local beers until the opening of the pub.
The rooftop deck of the hotel " Island stay holoholo " is a comfortable space. I also had a cup beer here before dinner the first day .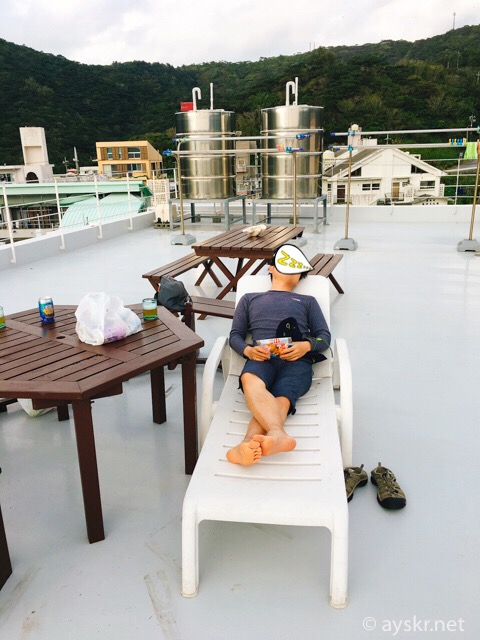 Umibaru Shokudou
First of all, we entered the Umibaru Syokudou in the hotel on the island stay holoholo .
Mimigar Chample (Pork's ear)
And Is it the pig's feet?  Broiled "Tebichi"
Rather than meat, the "purupuru" part of the leather is the main. It is unique texture.
We wanted snacks and ordered fried squid with butter.
The liquor is local spirits "Awamori". The Umibaru Shokudu is a normal pub it has so-called Izakaya menu with a light atmosphere. The interior is modern and you can relax as there is also some private  seat in the room. There were also a group that had banquet of the course menu.
Santa
Next is Santa . It is a sort of appearance like a hut.
Squid  Sashimi. Of course, with Awamori.
Next is Oyster fried. There was not much sense of Okinawa local cuisine in Santa, it was a feeling that there were many classic Japanese menu of common food. So, there are local popularity. It might be good if you get tired of local specialty dishes. It seemed that there were abundant kinds of sake.
A traveler from a foreign country also enjoyed eating. There was English menu, too and was kind.
Marumi-ya
The third pub. We want to eat noodles! With my wife demands by the likely of Okinawa soba of the Marumi-ya to. It is a pub featuring appearance like old coffee shop, but you can taste delicious dishes.
Fried gemami tofu
Popular local food "Rahute".(stewed pork)
Marumi-ya 's  Rahute was reputable as a delicious on the web.
Long-awaited Okinawa soba!  This is another classic taste, but there are few taverns in the menu at night.
When it comes to the 3rd Izakaya, my wife totally looks happy. we will indulge in the night of the Zamami.
Bonus: La Toku
The one I would like to recommend most of this time Zamami island trip was La Toku that we visited on the first day . It is on the main street heading from Zamami port to the village office and elementary school.
Local fish sashimi and … ,,
There is arranged dish. It is a nice lineup for travelers.
This is a mackerel tsukune.(meat ball)
Deep fried of island tofu. It is a wonderful arrangement.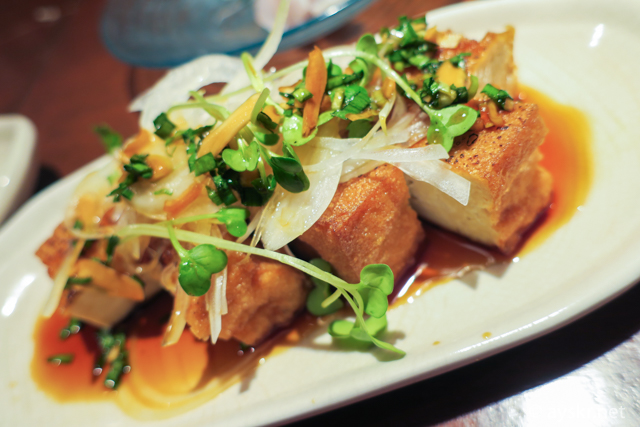 Ratoku, Zamami island
Of course the classic chample dishes as well. This is a Fu-chample.
We could also chose a variety of Awamori. I really liked old Awamori "Ku-su".
[Today's memo]
We wentLa Toku on a weekday evening, but the number of seats was not enough, soon it was full. It may be safe to make a reservation.
Unfortunately it rained on the third day, but I did sightseeing in Naha city.

During the day of the day, I enjoyed whale watching and sandy beach tour.