Yamanashi trip. Continue further from Kasatoriyama.
[Blogcard url = "https://ayskr.net/en/kasatoriyama-en/"]
Today's hotel · Keikansou
Kasatoriyama itself is a mountain where it can be a day trip, but this time, I stayed at "  Keikansou  " near the Nishizawa Valley to enjoy the autumn leaves. A review is a very nice inn.
To a horse sashimi and to mass on a mass ,,, a rich evening meal.
Taste good, volume is oversized. After dinner I could not move for a while lol
The rice of breakfast is cooked with cherry blossoms. It is a beautiful color and has a very good scent. The room is clean, bath is hot spring. It was a great satisfying accommodation.
Nishizawa Valley, autumn leaves
The next day from the morning to the Nishizawa Valley hiking. Because the inn is close, parking lot still had room.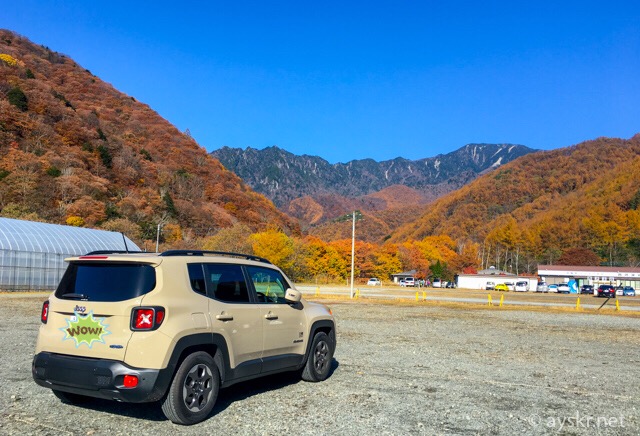 We will walk under the autumn leaves.
In mid-November overall the viewing time has passed, but vivid places were seen in places.
The leaves looks attractive in blue sky.
A trail with a small slope continues to the back of the swamp.
Mt.Keikanzan
Beyond the autumn leaves you can see a rough and beautiful crown of chicken.This is Mt.Keikanzan. It is one of the 100 nice mountains of Yamanashi, but the difficulty level is "for specialists", … It is enough to just look at the mountain.
A clear stream like a picture
Small flows like a picture to the rocky place which became a stage in the back of the Nishizawa Valley.
It is a work of art of rock, water and autumn leaves.
Nishizawa-valley 360
Post from RICOH THETA. # Theta 360 – Spherical Image – RICOH THETA
This is Hiking, not sightseeing
I have to proceed along a dense wet rock along the lake. Since we were trekking clothes, we challenged our laps. I think that it is quite a hard road for ordinary sightseeing clothes.
The autumn leaves piled on the ground are also beautiful.
In the hinterland there was a spectacular waterfall like this.
I intended to have a bit of autumn leaves walk, it was a trekking course that took half a day.
Today's memo
Since there are some wet rocks on the way,I recommend you to challenge with proper hiking shoes. If you go wrong with pumps you will see hell.
Related articles
How do you like mountain trips in Europe? Tour du Mont Blanc is the finest hiking route.
[Blogcard url = "https://ayskr.net/en/tmb-highlights-en/"]
Austria · Tirol is also a hiking paradise.
[Blogcard url = "https://ayskr.net/en/tirol-highlight-en/"]