In August 2018, we went to our first one night trip with my 4 month old daughter.
This time is a trip to Shizuoka City – Yatsugatake Highland (Kiyosato area) by car. When My daughter sits for a long time on a child seat, she starts crying. Driving route depending on carefully planning a relaxed pace trip to take a break every hour.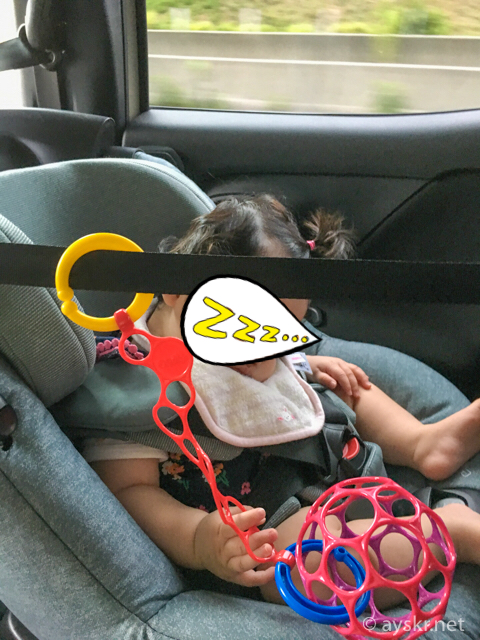 Nah, what's going on, daughter sleeping ,,,,,
After all, I proceeded nonstop from Shizuoka city and Kofu city, and arrived at Kiyosato at 9 o'clock.
Natural garden of Moegi-no-mura
The first destination is Moegi-no-mura in Kiyosato .
Here, the restaurant "ROCK" is a popular spot. When we arrived 9 o'clock, the restaurants and shops were before operation, but the purpose of this time is"garden" here so there is no problem.
In the garden handed out by a British landscape designer Paul Smither, it is said that the gardening making use of Yatsugatake's vegetation is drawing attention. (I heard at NHK, ,,,)
First of all, a huge thistle greeted us.
You can enjoy plants of the plateau in a rustic atmosphere.
Although it could not be shown in the picture, a cute bee wearing a lot of pollen on the foot flew.
A flower bed like an art work
Here, classic cars are decorated with plants.
Looking from the front like this. Various flowers are alive.
There was such an object of such a vivid color pencil in front of the ROCK restaurant.
Besides this,  flowers are planted in tractors, shopping carts, and there are lots of flower beds like art works and it is fun.
A garden that makes use of Yatsugatake 's vegetation
The ordinary planting is plenty of green too. It mixes diverse plants and feels natural and powerful. It is very nice garden.
If we trip with with, it is hard to go to places where alpine plants are actually grown, but it is safe here. In the air of a refreshing plateau even in the summer, I enjoyed walking happily. You made your daughter close to the flower, it was a good stimulation!
It is worth going just to walk Mr Smither's garden like this time. There are various shops in a wide site.
we went back to have a meal at noon, but the restaurant was popular and we could not enter. As meat and craft beer seemed to be delicious, I would like to spend my time staying at the attached Hotel  Hut Walden at the next time.
Yatsugatake trip with baby in the second part, we go to Seisenryo.