Grand Circle travel note, Day 4. Continuing from yesterday, it is Arches National Park. It is the best sightseeing spot in Archie's and heads to the trail showing the delicate arches that are symbolic in Utah!
Burning trail 5km round
The delicate arch is not near the paved road, it is necessary to aim for walking about 2 to 3 hours round trip back and forth about 5 km round trip.
Although the distance is long, there is nothing to shade sunlight, so you need to be careful as you go on a steep rock. It is an intermediate class in the Japanese guide book, and a middle to advanced class in the Lonely Planet.
Especially during midsummer daytime Archie's is a burning hell. Action started from early morning, still cool. Furthermore, we will armed with long-sleeved shirts, long pants, hats and sunglasses with good breathability to prevent sunburn.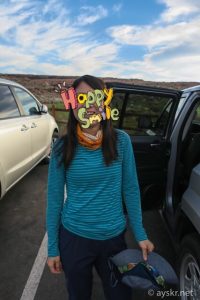 To the Delicate arch. At first, we advance a flat bush.
Climb one piece rock
Soon it will be climbing of a single lone rock.
It was still cloudy in the early morning.
Viewed from the top. I think I can understand that there is nothing to block the sun.
My wife is tired soon.
I have climbed a lot. If it was not a treasure trove of strange rocks · Grand Circle, it would have been that this one rock we felt it was a tremendous landscape ,,,
The figure of a boy who broke heart in the middle also. Lol
The place where I climbed the rock. Although it is thin, there is a strange marble pattern.
Follow the cliff
The trail continues along the quay.
Hmm! An arch like a squeezing duster.
The trail width narrows steadily. Early in the morning there are few people so it's still okay, but it seems dangerous if it crowded.
Beyond the scary trail is …,,
Baby! Suddenly a delicate arch appears.
Beautiful Delicate Arch
Smooth form with almost no horn. How, … what a photogenic figure is. I have been exhausted by the road so far, I have been misunderstood for a while.
I will try to get closer. it's beautiful.
Memorial photography with Delicate Arch wait in turn for each pair. There are few people early in the morning, but already about 5 pairs of queues were made.
Waiting for the order of photos, from the side. You can see that it stands in dangerous balance. I think there are some arches that have collapsed already, and it seems like a tremendously valuable experience when thinking that one of the archers of the masterpiece is gone when it comes next time.
Delicate arch and us.
Shooting time after a while lol
Delicate arch 

360°
Post from RICOH THETA. #theta360 – Spherical Image – RICOH THETA
Hikers arrive while thrilling while we are shooting. After all, in early morning is cool, there are few people. Let's calm down and take a nice picture.
The opposite side of the delicate arch is like this. On the right side of the front rock, there is a trail that will continue from trail head.
It is just like an audience seating the Delicate arch from the front. By the time we returned, it was very crowded.
It was a very mysterious space.
Post from RICOH THETA. #theta360 – Spherical Image – RICOH THETA
Devil's Garden
We return the same trail to the parking lot as we go.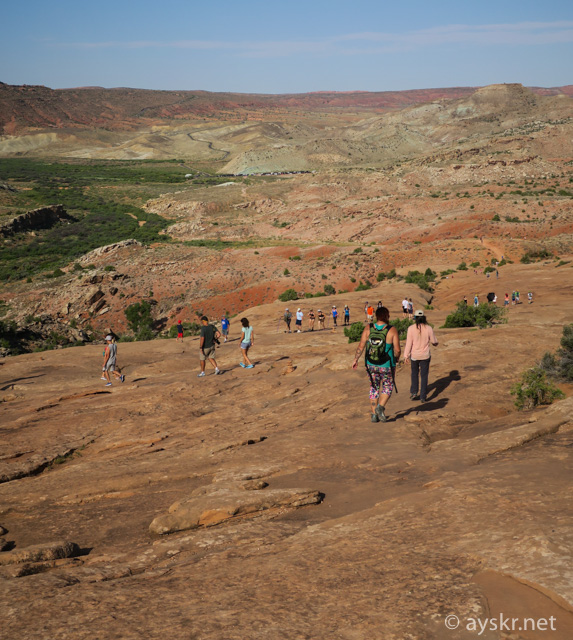 Archie's national park which passed through 9 o'clock and turned into a burning hell. I can not act too long in summer days. The Delicate arch was wonderful, but my wife looked like a broken heart due to too much heat.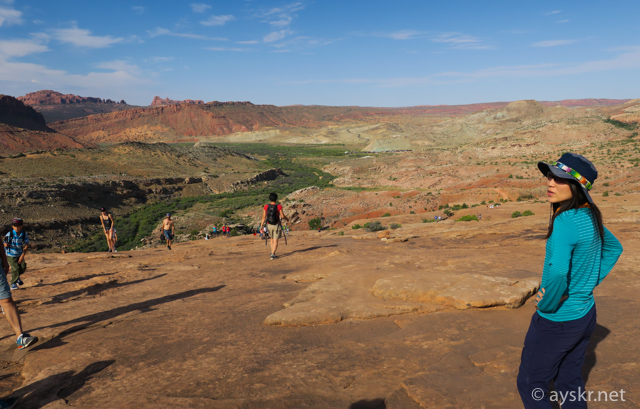 Because we had enough of Delicate arch and time had run out, we saw a section called 'Devil's Garden' in Archie's innermost area with a car only. There are many interesting landscapes, including the world's largest Landscape arches.
A dubious landscape that can nod a place name "devil's garden".
Arches National Park ends with this. Although we did not have much time in our journey, there were various arches that exceeded 2000, besides what we could introduce here, as well as Canyonlands National Park based in the same Moab city, Moab It is good that you enjoy staying several days.
To Monument Valley
We will south down UT-191 road aiming at the next destination · Monument Valley. A dazzling signboard drawn directly on a huge rock.
There was also a big arch!
Lunch in the city of Monticello along the UT-191 road. We entered a shop called Horse Head Grill . The interior is unique. A deer holding salt and pepper is cute.
Drinks on an unusual glass.
Although evaluation of Trip Advisor was pros and cons, the hamburger was delicious. Whether there was not enough manpower in family management, the response was late, but it was a pleasure to have some caring about dividing out one hamburger when we two people ordered one.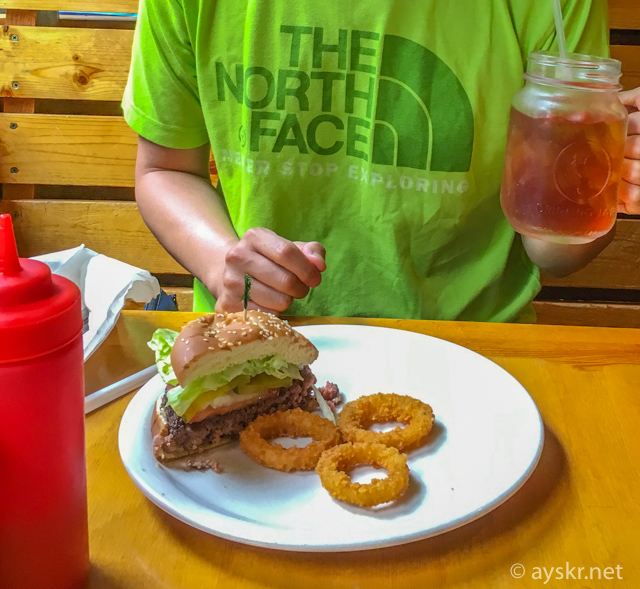 Horse Head Grill, Utah
It may be good or bad, depending on the menu and the season. It was also a place to relax for local grandmothers and it was a pleasant lunch.
Next is rush into the original scenery of America "Monument volley" !