Grand Circle travelogue, the 3rd day is still continued. 
Let's leave the strange landscape of Bryce Canyon and aim for the next destination Arches National Park. It takes 6 hours to get to the city "Moab", Utah, a big move ,,, though it is a distance that will be tough if you think normally, in fact this process is also one of the highlights of this trip. It passes through the famous scenic route in the United States.

Scenic Byway 12
"Arguably Utah's most stunning drive."  "Scenic Byway 12 travel one of the most remote region in the US." :from Lonely Planet "Southwest USA's Best Trips"
I do not quite understand the meaning of Scenic Byway, but it seems to be like "an American road 100". I will go down to the east from  Bryce Canyon that the highest altitude in the Grand Circle.
It is a landscape that can be said to be the real pleasure of the American road trip.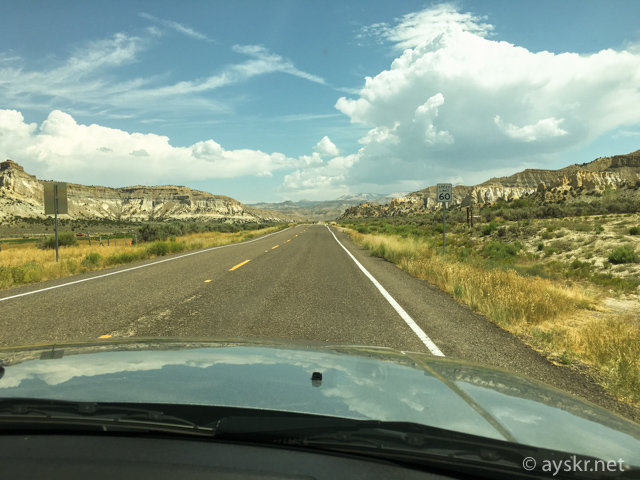 Scenic Byway12, Utah
We will escape between ranches and rocks. The color of the stratum becomes grayish compared to Bryce Canyon, you can see well that you are coming down the huge stepped terrain "Grand Staircase". The pink color "Pink cliff" of Bryce Canyon is the youngest, the top layer.
Town of Escalante
we will have lunch in the city of Escalante for 1 hour from Bryce Canyon. It is a place known by the name of "Grand staircase Escalante quasi-national park". I entered a restaurant called Circle D Eatery .
Okay. Meat & meat hamburger packed with 2 thick putty.
Eat excitingly with full mouth. It is good at baking and very juicy. Because it is red meat, it never got stomach and it was delicious. I wanted to match beer unless it was car trip.
>Circle D Eatery's Trip Advisor information
According to the guide book Lonely Planet, the population of the city along Byway 12 is 792 people in Escalante, 211 people in the next Boulder, 362 in the next Torrey, the very frontier of the town ….
Variable terrain
Byway 12 going through the stairway stratum, the landscape will change drastically.
Huge monolithic hill called Head of the Rocks.
Fun Drive Route
Because it is a fun route driving, there are many people who enjoy driving and touring. Encounter with the Harley ride group. When we take a picture secretly ,,,
They gave us a ride. Friendly Masters.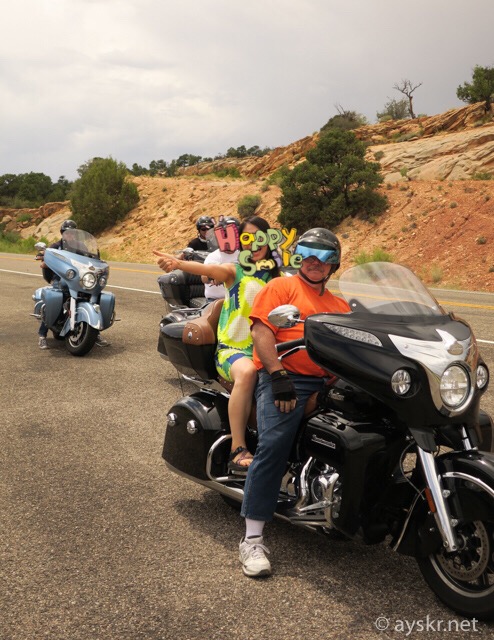 At the end part of Byway 12, beyond the city of Boulder there is a cool plateau at a stretch of elevation.
Post from RICOH THETA. #theta360 – Spherical Image – RICOH THETA
Capitol Reef National Park
Beyond the city of Boulder, the endpoint of Byway 12, Capitol Reef National Park (Capitol Reef NP) has come into view.
Although it is a thin existence in the Grand Circle, it is a magnificent scenery suitable for the title of the National Park.
Post from RICOH THETA. #theta360 – Spherical Image – RICOH THETA

JEEP looks nice with this scenery.
Chimney lock.
Just driving through a road that you can pass free is dynamic attractions. In the midsummer daytime it is a burning hell that exceeds 40 degrees, but it was fortunately cloudy so it was cool.
Finally it ended with a gray sandstone stratum. It was a beautiful landscape that Navajo called "Sleeping Rainbow Earth", we can nods. Although I only passed through this time, it might be nice to stay here overnight.
Goblin Valley
There is a state park called "Goblin Valley" on the way from Capitol Reef to Moab on the UT – 24 road. Although I could not stop by this time, I could see a similar scene in the vicinity.
I feel that resembles Big Thunder Mountain in Disneyland.
Goblin Valley featuring round erosion. It is a unique scenery.
Rain falling in the Grand Circle
The weather on this day is cloudy and then rain. In the vast Grand Circle, you can often see the raining area.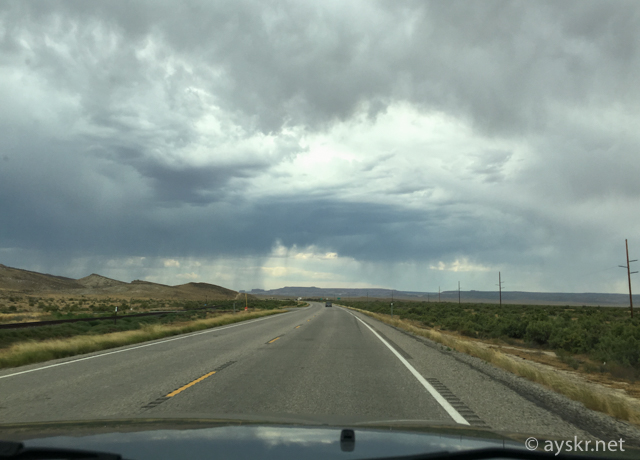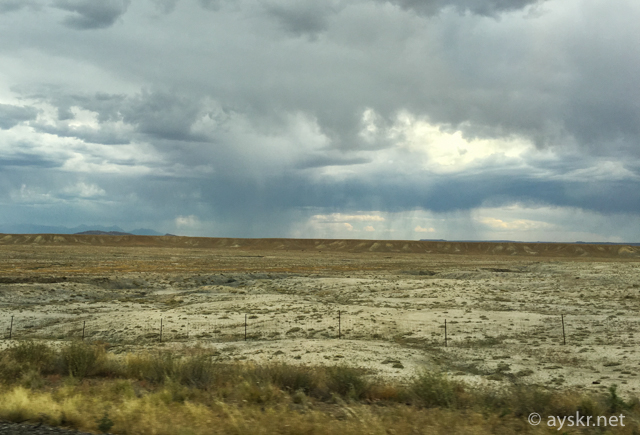 Unfortunately the weather is not good, but this is an interesting experience.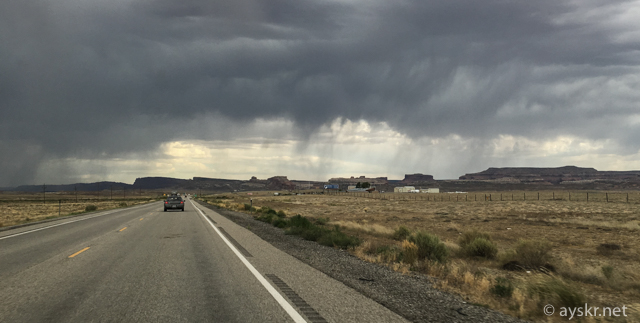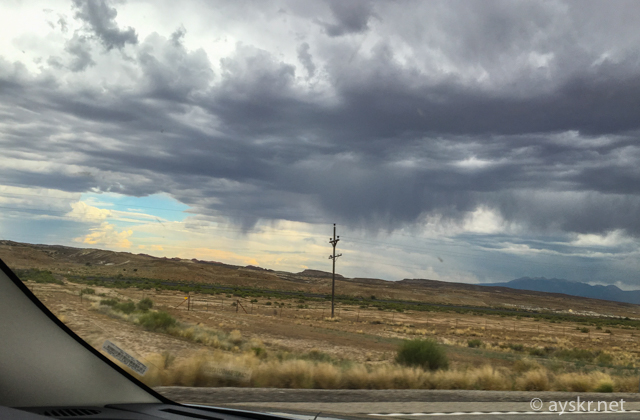 Arrive in Moab
Arriving at the base of Archie's National Park, Moab, watching the strange green strata. Movement between Bryce Canyon and Moab was a tremendous landscape like it was a good event as a traveling event itself. I did not get bored at all for 6 hours.
Today's memo
Movement is also an event in the Grand Circle. Not miss a spectacular view.
Related articles
Next event is entering Arches National Park!

I moved a lot, but I was watching the sunrise at Bryce Canyon early in the same day morning.