Grand Circle travel note. On the fourth day we will continue to Monument Valley.
Forrest · Gump Point
It is 3 hours south from Moab with Arches National Park . The scenery of the beginning of Monument Valley is this forrest · gump point. As a method of enjoying Monument Valley, I think that approaching from this landscape of the northeast is the most impressive. The group of monuments floating on the horizon is a masterpiece.
This is the second time that I travel the Grand Circle. It was about ten years ago when I visited for the first time. At that time, it was the chance to be fascinated by this scenery which adorned the cover of the pamphlet of the camping tour company Trek america .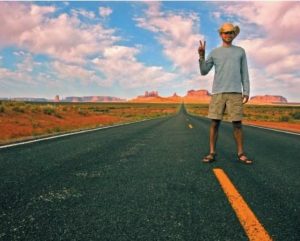 I remember seeing the appearance of taking a pose in the back of Monument Valley unbearably and coolly. It resembles a picture of my memory that led me to the Grand Circle.
It is a space full of feeling of openness that you want to shout unintentionally.
Forrest · Gump Point 360 °
Post from RICOH THETA. #theta360 – Spherical Image – RICOH THETA

I tried running,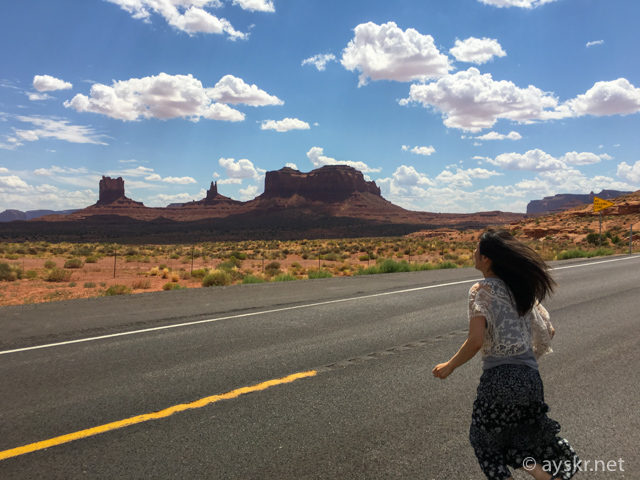 Try lying down ,,,
Have fun! Now, Enter the monument volley.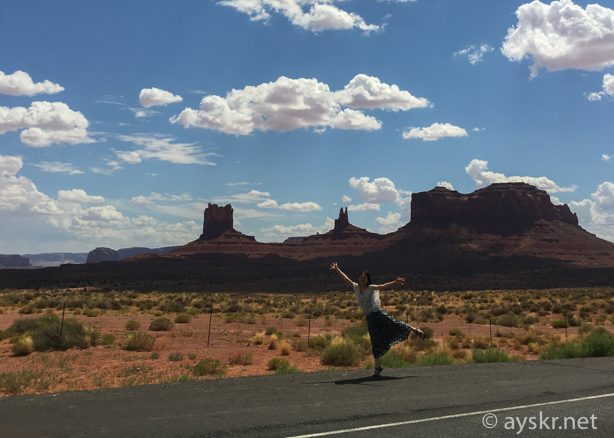 In Monument Valley, we reserved a Jeep tour that the Navajo people will guide. This area is called Navajo Nation, Monument Valley is the sacred place of the people of Navajo. It is the area that they manage and operate.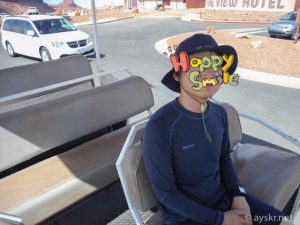 This is a view from the visitor center. From the left, they are called West Mitten, East Mitten, Merrick Butte.
We are going down to the inside of the volley riding the open Jeep. Great tremors and dust, but, we can enjoy monuments up close.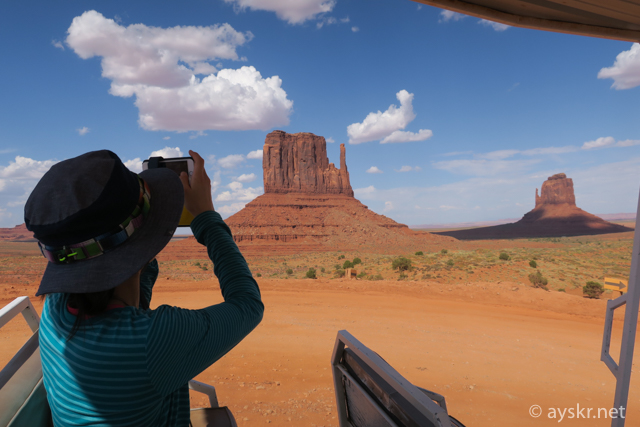 A myriad of huge monuments.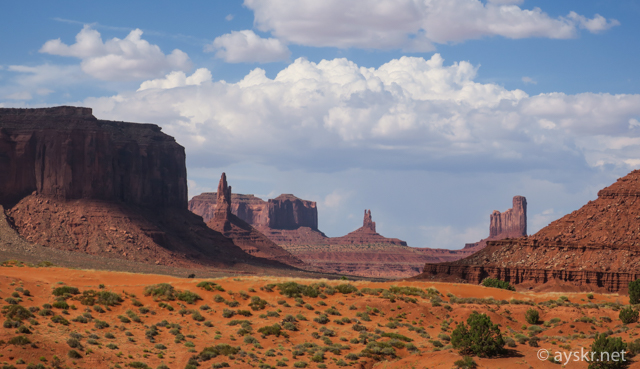 West Mitten Butte. There seems to be a trail called Wildcat Trail that goes around this butte and wanted to walk if we have enough time.
The contrast between blue sky and red butte is nice.
The inside of the valley is a dirt road. Although it seems to be able to go around with private cars, it is bumpy and it is a hard road with sandy so I recommend you to participate in the tour. Compared to the tour of Navajo, there seems to be few areas that can enter.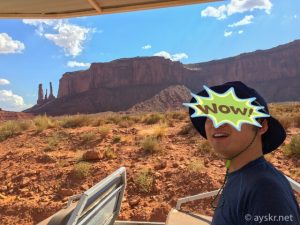 Three Sisters. It looks like three nuns.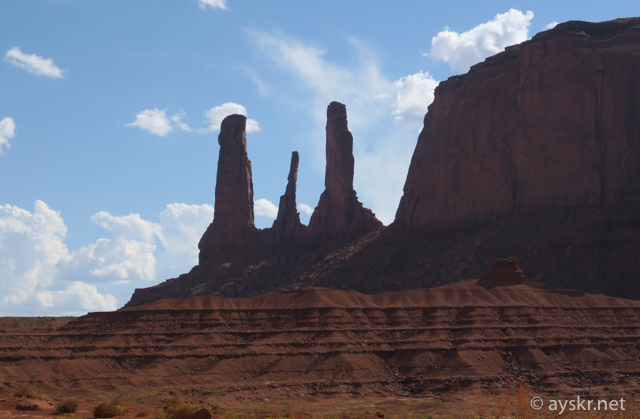 John Ford Point
It is a famous sight, John Ford Point. A clerk (?) on the horse is on standby and regularly takes a pose at the tip of the cliff. In this way anyone can take famous photos.
John Ford Point Panorama
John Ford Point 360 °
Post from RICOH THETA. #theta360 – Spherical Image – RICOH THETA
I stood at the tip.
There are lots of mesas and buttes. Mesa still like a table like a plateau, but butte is thin.
The Eagle's eye
Next I visited a large hole opened in the rock wall. The guide called Eagle's Eye. When I was taught … I got it, but I did not understand easily.
The Eagle's eyes 360 °
Please look for and see what Eagle's Eye looks like.
Post from RICOH THETA. #theta360 – Spherical Image – RICOH THETA
Red sand dunes
Next, a red dunes and a window that is open wide. The rocks were scraped and deposited (?) I rushed up the red dunes.
It was more precise, lighter and smoother than sand beach. It feels good to be barefoot. If it drops from the hands it will be blown by the wind. As the feeling is comfortable, we recommend walking with bare feet if the sun light does not hit.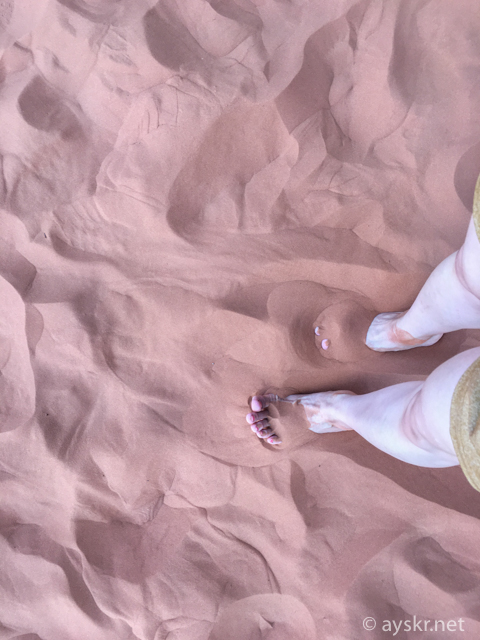 Ear of the Wind, Monument ValleyView from the top of the dunes. There is surprisingly height.
A large vertical hole. It seems that it is called Ear of the Wind.
A big window and a commemorative photo. It was a strange landscape.
This is the end of the Navajo Jeep Tour. Return to the visitor center and take a commemorative photo with the guide. Because it was late, we had private trips for ourselves.
Dusk of Monument Valley
When we returned to the visitor center it is just the time of twilight. We will appreciate it for a while. The familiar landscape with three buttes comes from the observatory in front of the entrance of the store at the visitor center.
Monument that has been dyed red. A look which is completely different from the time when we saw it in the daytime.
Simply put, scenery of rock and sky. That makes it so colorful and beautiful. We will forget the time and watch.
Monument Valley at dusk 360 °
Post from RICOH THETA. #theta360 – Spherical Image – RICOH THETA
Although it is a scenery which is difficult to leave ,, our visit to Monument Valley ends with this. The nearest ,,, but going to the city of Kayenta more than 30 minutes away by car.
In the valley,  there is a hotel called The View Hotel where this scenery is seen from the room and a small camp site, and if you can stay there, you are likely to be able to enjoy the sunset and the morning sun slowly. We could not stay with our trip, but I think that absolutely better if we can make a reservation.
Accommodation area · Kayenta
Today's accommodation place · Kayenta. It is a small town where there are several fast food restaurants and hotels.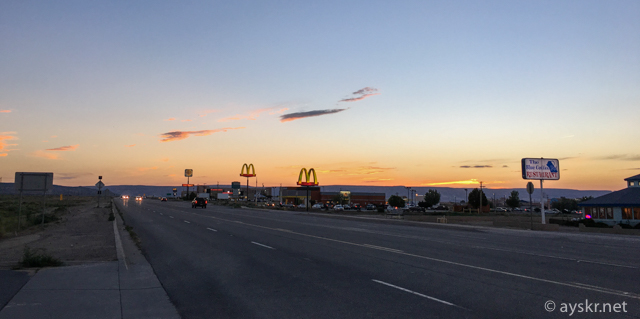 KayentaAccommodation was a beautiful motel called Kayenta Monument Valley Inn , but the restaurant was already closed as we arrived late because we were watching the setting sun and it was already dinner refugee. We found Reuben Heflin Restaurant in the hotel called Hampton Inn nearby and we are rescued.
Cheers to our day4! ,, I thought. But the city of Kayenta was still in the Navajo nation, and neither restaurants nor convenience stores handled alcohol. My wife was dissatisfied with non-alcohol Mojito · Navajo style.
Daily special menu,Grilled chicken. Three dips like avocados, chili beans, cream cheese and thin breads like nan, and salads, somehow with eggs, so wrap it with your choice.
And we challenged Navajo Taco, it's a local menu.
Chili bean sauce and raw vegetables are lumping on fried bread like thick pizza dough. This is a pleasure as raw vegetables were not eaten much on this trip. It tastes spicy hot. It is Mexican-like taste. It is quite big to eat with two people, but also three kinds of dip comes with us, so we changed the taste as you like and got delicious till the end. It seems to match to beer (cry)
My Grand Circle travel note, the 4th day is over. Tomorrow, finally we reach the Grand Canyon, it's a main destination of this trip!!

This is a related article.
We were in Arches National Park this morning. Grand Circle is full of superb views from one to the next.