America · Grand Circle travel note, the third day is Bryce Canyon National Park. Among the national parks of the Grand Circle where various rock arts are seen, the strangest landscape is spreading.
Dawn of Bryce Canyon
The main point of Bryce Canyon is the steeple group of rocks whose color changes constantly as the light changes at dusk and early morning. We got up at 5 o'clock and waited for the morning sun at Inspiration Point.
It is still dark, close to purple.
It gets gradually redder little by little.
The sun came out at last.
Among the several View Points, this Inspiration Point is perfect for seeing the steeple dyed in the morning sun.
Bryce Canyon shining gold
It is shining red and gold. it's beautiful.
It seems like Candles  are lining up and it's fantastic.
Inspiration Point 360° photo
Post from RICOH THETA. #theta360 – Spherical Image – RICOH THETA
The color change is different depending on limestone and red sandstone formation. I can not turn my eyes away even 1 second.
Go down to the valley of spires
After watching the morning sun, we will walk inside the canyon of the spires.   We'll try the "Queens garden trail", it starts from one of the view points the Sunrise Point. We made it as a combination route connecting to the most popular Navajo Loop Trail. It's about 3 hours.
We found a squirrel at Sunrise Point. Cute.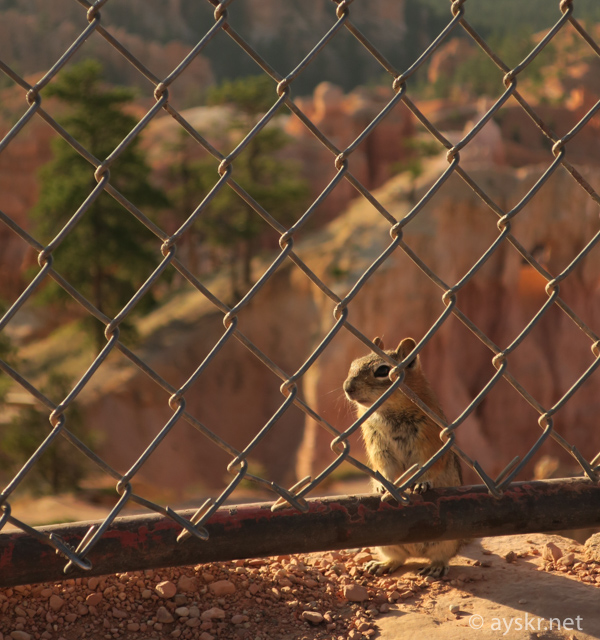 It was not as familiar to people as Zion's squirrel, and it was a natural figure.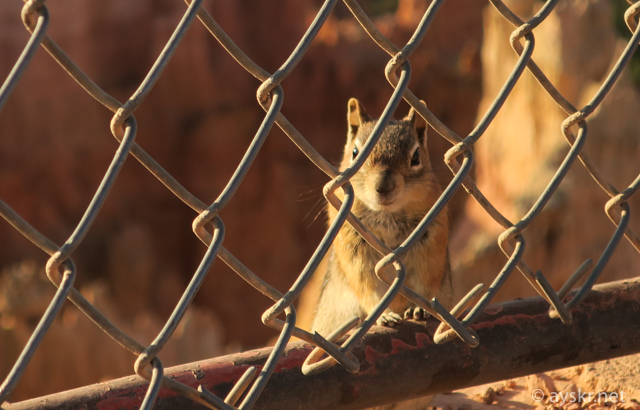 There is an inspiration point on the front cliff. We will walk around canyon where we were looking at the time of the morning sun.
It is a mysterious sight made with erosion of rain and ice and snow.
Is this supposed to be a spire?
Strange castle? Queen's Garden Trail
Go down the canyon along the Queen's Garden Trail. Ones of spires are so huge when you see it nearby. It is called "Hoodoo".
It is a trail named "Queen's Garden", but it seems like a strange castle.
I feel like I'm lost in a different world.
This is the state "fin" before becoming hoodoo. It is said that it will be further scraped and become a spire.
I came up to the bottom of the valley. The scraped sand is accumulating.
The trail leads to the Navajo Loop Trail from the valley bottom. It is much bigger than trees! What's a huge Hoodoo group!
This tree is thin and high Douglas fir. While being surrounded by huge hoodoos, it is growing seeking the sun.
Navajo Loop Trail 360
Post from RICOH THETA. #theta360 – Spherical Image – RICOH THETA
We will climb the deep and narrow valley.
Be aware that rocks are fragile and cliffs are liable to crumble.
Surrounded by a huge spires! "Wall Street"
It is an area called "Wall Street". It seems like surrounded by skyscrapers.
It is a place to walk just under the huge hoodoos. A sight that is totally different from the Bryce Canyon scenery from the outside!
Wall Street of Bryce Canyon 360
Post from RICOH THETA. #theta360 – Spherical Image – RICOH THETA
In addition to looking at from the viewpoint, you can feel the natural beauty of shaping by entering inside and walking in.
Sunset Point
Arrived at the end of the Navajo Loop Trail, Sunset Point. Although it was short time, it was quite different from other national parks, and it became a strongly impressive hiking. In the lower right corner of the photo you can see "Thor's Hammer" like the symbol of Bryce Canyon.
Sunset Point 360
Post from RICOH THETA. #theta360 – Spherical Image – RICOH THETA
We enjoyed it!  Bryce Canyon trip is finished with this.
We'll take long distance drive of the best view in the afternoon!

After that, we will head to the Utah State Symbol Arches National Park!

Today's memo
· Beautiful change of color of sunrise and sunset time is a must-see 
· We recommends looking up Bryce Canyon's hoodoo from their feet. It is very powerful.
Accommodation information etc.
It is convenient to stay at Bryce Canyon Village, which is close to the park gate a few minutes by car, when you enjoy the sunset and the time zone of the morning sun when the Bryce Canyon dramatically changes its scenery.We stayed at Ruby's INN .
Also in the village is Bryce view Lodge .
Moreover, if you can take reservation, stay at The Lodge at Bryce Canyon in the park, you can enjoy watching sunset while drinking! It is the best for sightseeing.
For more information on other inns, campgrounds etc Check out TripAdvisor!