A trip to Tour du Mont Blanc in 2013. I will introduce the prepared items and equipment in the order that I think is important.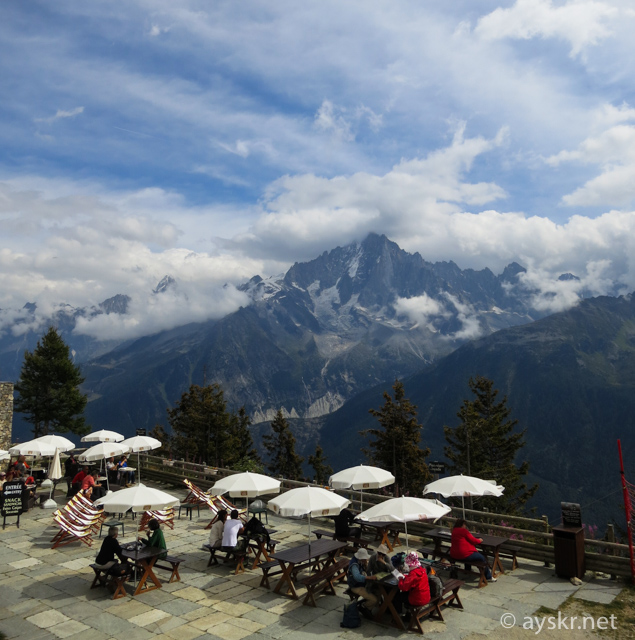 Guidebook
I think that getting the information on what kind of place is the most important for enjoying the trail.
I heard the story of Tour du Mont Blanc from a Japanease who is trekking guide in Europe "Ultra comfortable mountain trip in Europe" "Meals of mountain huts come out on the course" It was a chance. In those days I knew only the harsh mountain hut of Mt. Fuji in Japan, so I would like to go someday! I thought.
I searched web and bookstore before traveling, but I could not find a Japanese book at that time. I bought it with Kindle, but I think that it can be carried without trouble even in paper version because it is pocket size.
It consists of two parts, in the case of regular counterclockwise, in the case of clockwise, and the model route in the case of going over in 11days is explained with a simple map and height difference diagram for each itinerary. People who are not familiar with English can hardly read, but they explain the mountain huts, the variation routes and the highlight places by sentences, which helps to figure out the whole story and the process. Although the map for each posted in this book is simple like an illustration, TMB is almost one trail, there are marks carefully in places and sometimes a certain sign is made at a branch point. As a result, almost no maps that were carried were opened, and there was almost no problem with only the figure of this book. The chart of height difference also became very useful in the planning and route consideration of the day.
It seems that such a Japanease book is also on sale.
Reserve huts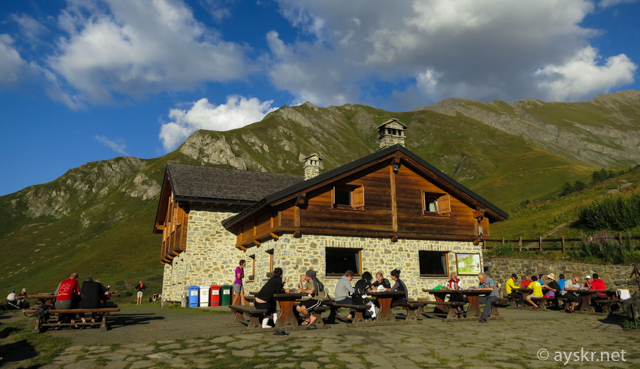 It is not a thing, but I think it is essential in the high season from July to August.On the official website below, it is convenient and safe to have a function to designate arrival huts in order, starting with the designation of departure point and direction, and to reserve.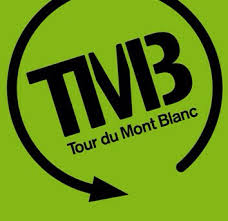 Trekking shoes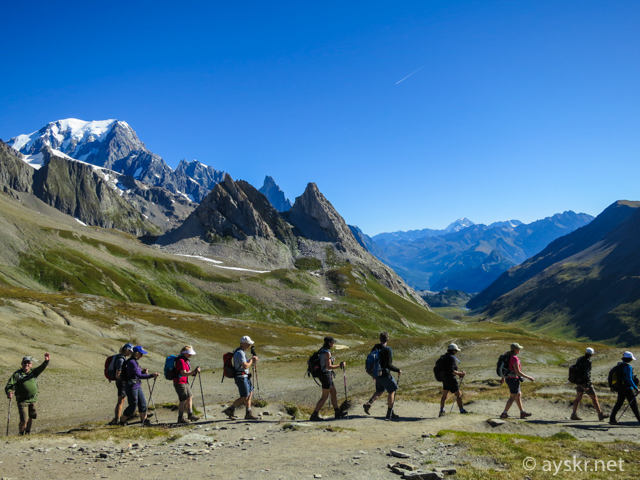 I spend most of my time "walking", so choosing shoes is also important. The following three points are considered as necessary elements.
· Waterproof performance
TMB  journey is only a step forward in the mountain path of one way. Especially in the high season the reservation of mountain huts in advance is essential, so we can not decide the course of the day depending on physical state and weather. If it's rain unfortunately, if water soaks in the shoes, it will not dry out the next day, and it will make you feel uncomfortable. Waterproofness to the extent that water does not penetrate even when walking in the rain is important.
·Lightweight
TMB has almost no place like steep and dangerous rocky place like Japanese Alpine climbing. Since over 90% are well-maintained roads, that's OK you can walk. I think that there is no need to guard the foot firmly with hi-cut climbing shoes. It is also a point that there are more horizontal movements than ascent and descent. I feel like weighing heavy climbing shoes will be wasted phisical.
· Cushion
As I walk on a daily, damage is accumulated on my feet, as expected. I think that there is no problem if it is about normal shoes for hiking.
Based on the above, I believe that waterproof trail running shoesor fast hiking shoes are the best. This is what I wear.
Rainwear
As with shoes reasons, you must act even in the rain.
Backpack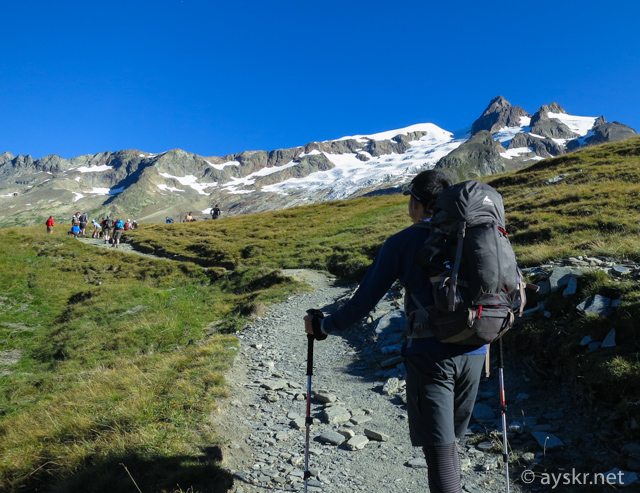 Since I will walk with it all the time, I avoided big one that have a large capacity and "get in too much".  I chose the 40 L size with the idea that I have only things that can pack the bag. In the long trail, lightweight is justice. After that, I made it a type that looks good in breathability as my back is because wet with sweat  makes me uncomfortable. Do not forget the rain cover.
※ I went with a backpack from Japan, but if you stay in Chamonix or Courmayeur accommodation overnight, there may be services that keep suitcases etc.
I think that it is obvious that a rain cover is essential to the backpack, but in case you rain water in the pack, by any chance, it is safe to put clothes and cold weather in such a waterproof bag. Packages can be packed easily for each color and size, and the fabric slides smoothly, so it is easy to take out even from inside the pack filled in the crowbar. It is recommended.
Trekking pole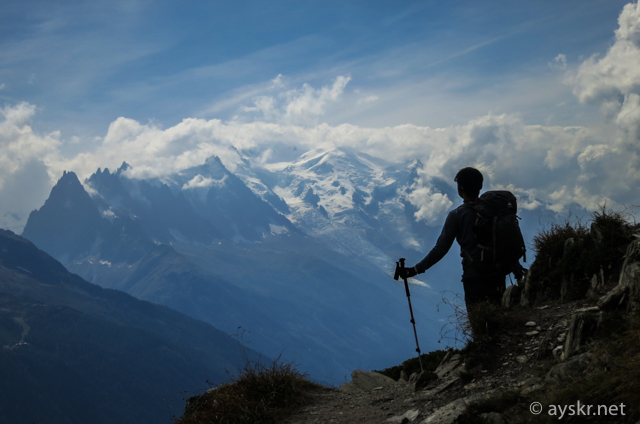 It is not essential but they will help you when your legs get tired or injured, it is safe to have someone who is not confident in your strength. I like lightweight and foldable type.
Hydration Pack
It is a water pack with a hose extending from the backpack. Although it is not essential, if you put a water bottle in the side pocket of the large backpack , it is troublesome every time you drink water, and your physical strength will be reduced. Since water can be supplied in a mountain hut, we think that it is 1.5 L to 2.0 L as a capacity for one day is enough.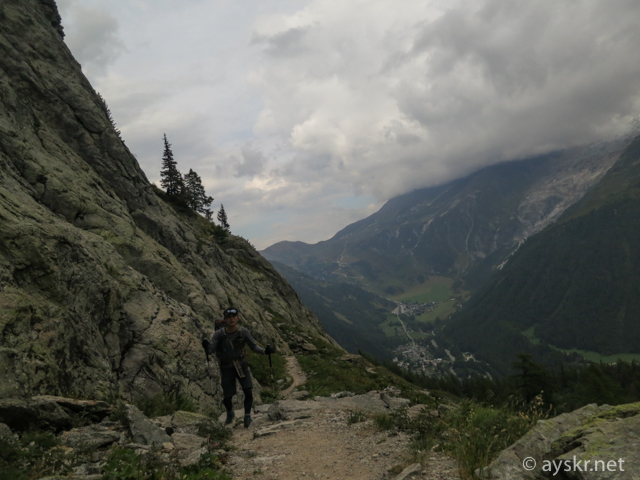 If the weather is stable, there is almost no dangerous place in the Tour du Mont Blanc, but preparation is necessary because there are many isolated sections. It would be safe to have lights and shelters.
Others
·  Warm cloth: It was late August when I walked the TMB, but it was cold in the early morning in the daytime of winter in Japan, so she warmed up on a thin fleece and on rain wear.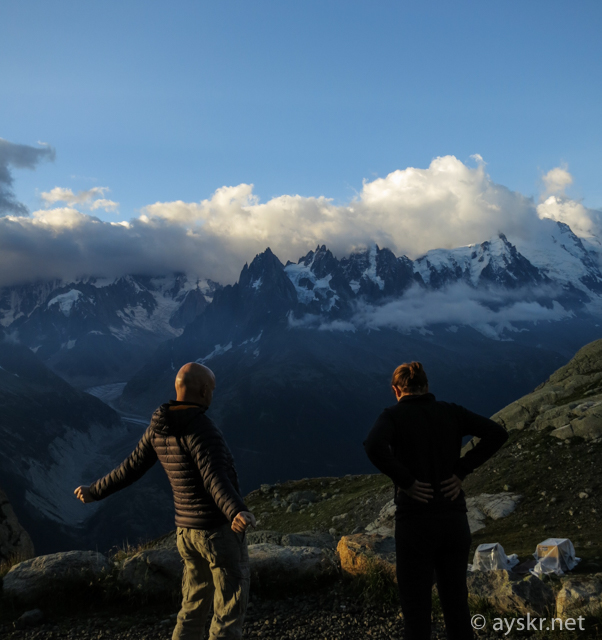 · Towel: There is no service at the hut.
· Compact Camera, Charger, Spare Battery: Because it is full of superb views, I shoot a lot. I recommend high-performance compact cameras that are easy to carry and do not miss shutter opportunities.Charging was done in a mountain hut. Even smartphone is okay.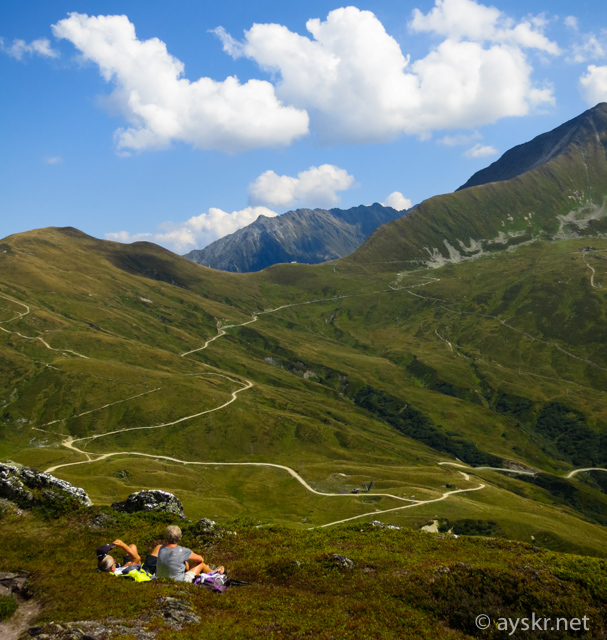 Things I did not need
· Lunch pack : Because there are mountain huts at intervals of about half a day on the TMB, you can order delicious dishes and alcohol. I did not have to carry lunch. If you are worried let's reserve a box lunch at the mountain hut.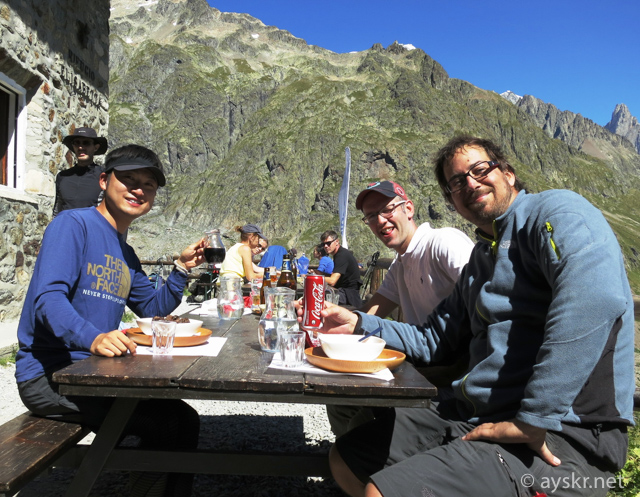 · Sleeping bag : In this trip I had a section I did not book a mountain hut, so I brought it for the unlikely event. But there were also mountain huts that I could book on the day by phone, because it's close to the off season. Let's make a reservation properly and lighten the baggage as much as possible.
· Items to kill time : I was talking with hikers who accompanied meal at night, and I became sleepy early, I did not have time at night.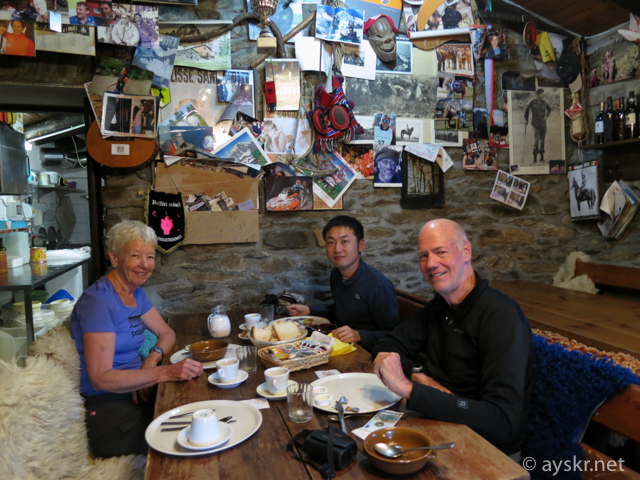 A Japanese guidebook was also published and seems to be easier to go than when I traveled TMB. I would be happy if you could enjoy this beautiful mountain trip by many people alone.
These are related articles.
It is a record of the travel of each day.

I compiled scenes in my walking on the Tour du Mont Blanc.

Prepare for your feelings is also important. I gathered the points of caution.